By Pam Kopiak (PKopiak@MossBuildingandDesign.com)
If I have to pick one more jacket up off the floor, I am going to scream! And don't even get me started on the endless amount of shoes laying around the house no matter how hard I try to contain them. Who even NEEDS that many pairs of flip flops, sneakers, sandals,flats, and boots? Apparently, my 4th grade daughter, that's who. If you are nodding as you read along, it might be time to consider a mudroom for your home. That mess needs to be contained!

Storage Galore
When thinking up a mudroom plan, the first thing you want to do is consider what function you want the space to serve. (If you are hoping to combine your mudroom and laundry room, see tips from our previous blog 'Home Design for your Laundry Room.') Is this where the kids are supposed to take the rain boots off? Will there be coats and backpacks there as well? Should everyone get their own space? This Great Falls, VA remodel allows everyone to have their own space and cubby for their belongings.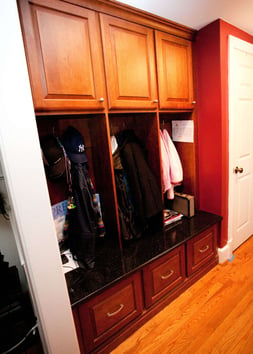 This Oakton, VA remodel features a built in where kids (and adults after a few drinks) could sit and take their shoes off. And then, right below, they could stash those unsightly shoes out of the way in some nice baskets underneath. Clutter be gone!

The Ceiling Is The Limit
Seriously. Even if you don't have a ton of space, you can get the most out of your room by taking the storage up to the ceiling. I would keep the coat, bag and hat hooks relatively low so that the kids are more likely to put their own things away (I wish you better luck than I have) but feel free to utilize the upper space for storage of items that don't need to come in or go out as often.
This mudroom featured on HGTV's gallery: Mudroom Design Ideas takes its cabinets all the way to the ceiling to maximize space and minimize mess!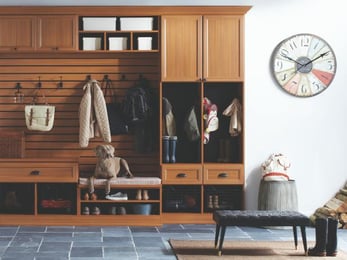 As with the mudroom above, this entryway mudroom utilizes racks and shoe storage as well as some hidden away storage at the top to keep certain items out of sight.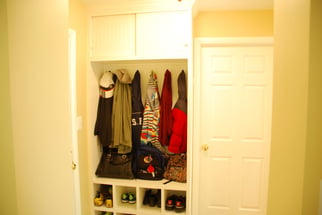 If you are looking for ideas on how to update or create your own mudroom, the professionals at Moss Building and Design are always available to answer questions and share ideas. If you would like to discuss your remodeling plans or have general questions call MOSS at 703.961.7707 or email Sales@MossBuildingandDesign.com.