Remodeling your basement in Northern Virginia
Remodeling or finishing your basement is a great way and quick way to get the additional living space you need in your home. Basements range from traditional to modern and each space is easily customizable to fit your family's individual needs. If you are looking for some basement remodeling inspiration, and have modern taste, this basement in remodel in Ashburn, VA may do the trick!
Basement Remodel in Ashburn, VA
This basement in Northern Virginia received a dramatic transformation. Here's a look at the unfinished space that was used just for storage for the family of four that lives there.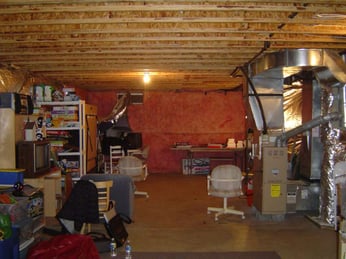 This space was later transformed into the basement the family has always wanted.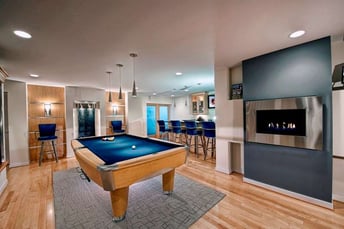 This basement has it all. It is approximately 1,300 square feet and includes:
Media room

Fireplace
Water feature
Full custom wet bar
Pool table/game area

Guest bedroom
Exercise room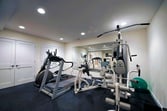 The homeowners had never had a finished basement before so they wanted to go all out on their basement renovation. One of their favorite things about their basement is the open media room where they enjoy movie night once a week. Had the homeowners chosen to close off that area, they felt as though the concept would not have worked. The open media room definitely allows the basement to feel like a large, open space.
The exercise room allows for a space for the homeowners to exercise every morning without having to leave the comfort of their home or spend money on a gym membership.
The custom wet bar was built by our carpenters at Moss who made the wood paneling onsite and custom-made the metalwork. The bar includes a granite countertops, a refrigerator and dishwasher.
The homeowners incorporated water and fire in their basement design. The modern fireplace and the water feature is a great touch for this basement remodel.
Whether you have traditional or modern taste, you can transform your unfinished basement into an incredible new space for you and your family. Moss is happy to get you started with your basement remodel and if you are interested in receiving a free estimate call us at 703.961.7707 or email us at Sales@MossBuildingandDesign.com.