Repurposing Furnishings For Your Northern VA Home Remodel
When remodeling your bathroom or other rooms in your home, you have a great opportunity to incorporate furniture or other items that otherwise go unnoticed in your home. Whether it's re-purposing something simple and small or a large piece of furniture, every piece adds a personal touch your remodel.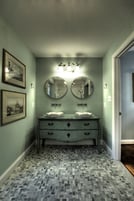 One of our in-law suite additions in Fairfax, VA re-purposed a lovely dresser in their new in-law suite bathroom. This addition was very unique and personal and the dresser added a very personal touch to this Northern VA remodel.
As you can see to the left the re-purposed dresser was transformed into a lovely vanity in the in-law suite bathroom.
DIY Bathroom Ideas
As I mentioned it doesn't have to be a HUGE item you're re-purposing. Even something as simple as a wine rack in your newly remodeled bathroom can add a personal touch to your remodel. In the photo to the right you can see how adding a wine rack to your bathroom can help organize towels.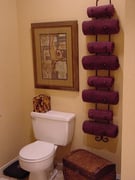 This is especially helpful in a half bath where there is no room for storage. This is fairly simple and something a do-it-yourselfer could accomplish. You can find other ideas and ways to tweak your bathroom remodel by visiting Pinterest. Our page shares several home tips and DIY crafts.
Moss Building & Design and Moss Home Services
Moss Building & Design is an award-winning remodeling company in Northern Virginia. We specialize in home additions, basement remodeling, and kitchen & bath remodels. As an established Virginia contractor we know what it takes to transform your house into the home of your dreams. As a result of the countless requests by Moss Building & Design customers who already know and trust the Moss name, we also offer award-winning home services including handyman services, plumbing, electrical, tile, roofing & siding, structural work and much more!
Wine rack photo credit: http://farm4.static.flickr.com/3119/2848448179_9a0b3cfd48.jpg