Installing Solar Tubes In Your Northern VA Home
In this day and age adding solar tubes to homes have become a popular handyman service. Solar tubes allow natural light to come into your home and does not require the use of electricity. It is an easy way to be green and energy efficient. In this article we're going to explain more about how solar tubes work and the benefits of letting a handyman install solar tubes in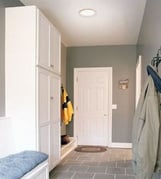 your home.
The Benefits Of Our Handyman Installing Solar Tubes
One big benefit is the fact that there is no electricity involved with the solar tubes and therefore it is free to use. You save on your electrical bill every month because they cost nothing.
The solar tubes our handyman installs will work even on a cloudy day. You do not need direct sunlight for them to light your home.
If you'd like you can close the solar tubes so that no light comes through. They are customizable to your everyday needs.
Most of them have a UV filter that keeps the sun rays from damaging the floors and fading wood flooring and carpet.
They are fairly inexpensive to install.
How It Works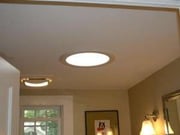 The solar tubes get cut through the roof just like a regular skylight or vent would. Then our handyman will connect them to the ceiling with a flexible tube that is lined with a reflective coating—like a mirror. The trim ring on the ceiling is similar to a recessed light, but just a little larger (see photo-left). The solar tubes come in two different sizes: 10 in and 14 in. A 10 inch solar tube is equivalent to three 100 watt light bulbs.
Common Questions For Our Northern VA Handyman
Q: What is the difference in skylights and solar tubes?
A: Solar tubes have a UV filter which will help block out the harmful rays and keep from damaging your floors, most sky lights do not have this feature. The solar tubes also protects from heating your home whereas skylights usually get really hot.
Q: Where do you install them?
A: Our Northern VA handyman installs a lot of them in new additions where people want to preserve energy. It's easy to install them on the second level of your home because the tube has a good path to go through. A lot of people use them to light their bedrooms, bathrooms and closets. However, these rooms should still have some regular lighting, whether it's a lamp or ceiling light, for at night. Or if you'd prefer you can install an electrical light kit that will make the solar tubes light up at night.
Q: What are the costs for your handyman to install solar tubes?
A: A standard cost for our handyman would be $600-$800 for each solar tube unit. This compares to the $2,000- $2,500 for installing skylights.
Northern Virginia Handyman Services
Our Green Remodeling philosophy promotes the conservation of energy during all aspects of a remodel. The solar tubes are a great way for you to be energy efficient while also saving yourself money. Our Northern VA handyman services will take care of any of your home related needs, whether it's installing solar tubes or performing standard handyman routines…Moss Home Services will have you covered. Call us at 703.961.7707 if you have any questions or would like a free consultation.
Next week we will be taking a break from our handyman series and hearing from our guest blogger, Cindy Simons Bennett.
Photo Credits: http://www.skylightsoflosangeles.com/ and http://elegantbathroomsbydan.com/environment/energy-saving-products.html