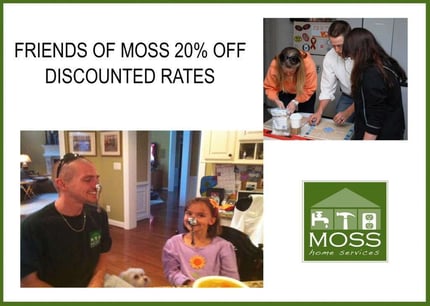 Moss Home Services Is Offering "Friends of Moss" (FOM) Discounted Rates To Our Repeat Customers
Do you need to have work done on your plumbing, electrical, tile, roofing and siding or just have some items that you'd like a handyman to take care of?
No need to call around to companies that offer you just one service, make just one call for your home services needs. Moss Home Services, your Northern VA handyman service can handle any home-related request, large or small.
We build life-time relationships with our customers and as a Friend Of Moss you will receive a 20% discount off our already competitive rates.
You don't have to use Moss Home Services to get these rates. You can work with Moss Building & Design for a remodel and you'll then be considered a Friend Of Moss and receive the Moss Home Services rates when you have handyman needs or other home repairs that you need taken care of.
Receive Award-Winning Quality Work When You Call Moss Home Services
Moss Home Services offers the same dependability, quality of work and customer service our customers receive when working with Moss Building and Design for their additions, kitchen remodeling, bathroom remodeling and basement remodels.
We are proud of our Angies List Super Service Awards for the last three years and our BBB A+ rating. Our customer-focused awards are the most important awards we can receive and our 80% repeat customer and referral rate says more than we ever could about the relationships we build with our customers and that is something we highly value.
You can call us for any home-related request, whether its Northern VA handyman services or structural work, or if you have a question about your home repairs.
We also offer an annual Maintenance Program to take care of routine maintenance items, assess the condition of your home and identify/address any problem areas. It's a great proactive way to maintain your home and keep it functioning properly for years to come.
Call Moss Home Services today at 703.961.7707 for a free estimate and your Friends of Moss discount.