The Kitchen of the Future?
Last week we looked at a few different kitchen remodels. Some were more conservative and traditional while others were modern and futuristic. This week we're going to look at some extreme futuristic kitchen concepts.
Remodeling Your Northern VA Kitchen
If you have modern taste you may enjoy this creative kitchen concept! The Sedna K Italian Kitchen concept has an island, but it isn't one that you could typically find in a Northern Virginia kitchen. It takes advantage of Corian's transparent quality to merge an integrated display and information system into their futuristic kitchen concept, designed by Marti Guixe'.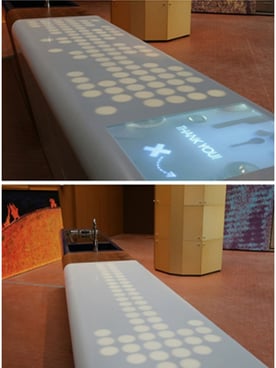 The information system would allow you to pull up various recipes right there on the island, as well as notify you if you have an email or even if someone is at the door, all without having to leave the kitchen! Are you convinced to have it installed in your kitchen?? Talk about the definition of multi-tasking. As if we don't do enough of that already.
Another futuristic idea is the concept of dining room tables that you can eat at and cook on as well. These tables would be great for entertaining. There's a few I've seen and some are more futuristic than others. Whirlpool has a concept for the 2020 kitchen called Fireplace, which is built upon the belief that it is our primal instinct to enjoy gathering around a fire to eat with friends and family. Okay, works for me! This concept has different layers, one being the center portion where the food is cooked. (Get this, there is some sort of detection device that hangs above that detects what kind of food it is so that it cooks it properly!) The outer ring is for your drinks which you can adjust for them to be warmer or cooler based off of how you twist your glass. How cool is that?!!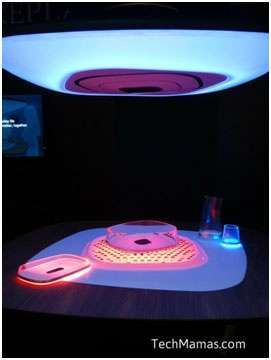 Moss Building & Design, Northern VA Kitchen Remodelers
While some of these concepts may be pushing the envelope a little, they are still fun to consider. Whether you want a modern, bigger kitchen or you want an updated kitchen with the same floor plan, Moss Building & Design is here to help every step of the way! For a free estimate please call us at 703.961.7707. We specialize in home additions, basement remodeling, Northern VA kitchen remodeling & bathroom remodels. As an established Northern Virginia contractor we know what it takes to transform your house into the home of your dreams. As a result of the countless requests by Moss Building & Design customers who already know and trust the Moss name, we also offer home services including plumbing, electrical, handyman, tile, roofing & siding, structural work and much more.
Photo credit: