The Benefits Of Remodeling Your Kitchen
The phrase "Aging In Place" means that you can remodel your home to accommodate your changing needs as you progress through life. One great benefit of remodeling is that you can customize your home to meet your everyday needs and the lifestyle you anticipate having in the future. Getting older is inevitable and those choosing to remodel their kitchens keep this in mind when picking a new kitchen design. It's important to plan ahead and realize your needs and how they will change throughout the years.
Redesigning Your Kitchen
When designing your new kitchen to age in place you'll want to keep a few things in mind:
Remodel your kitchen with a solid countertop surface as opposed to laminate.

Work with the designer to develop a floor plan that has more open space with a good traffic flow. This way you won't have to worry about maneuvering through tight spaces in your kitchen. Plus it keeps from overcrowding when you have family over. This particular kitchen in Oak Hill, VA has great traffic flow and plenty of space to get around: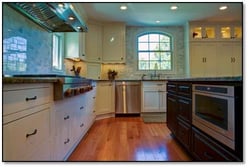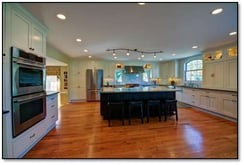 Install open/lower shelves for storage so that everything is reachable and more convenient

Place Microwaves/Ovens at reachable heights. Gone are the days when microwaves sit on counters and ovens must be attached to the stove. As you can see in this Vienna, VA kitchen remodel (right) the applia

nces have been

strategically placed to have easy access

As you remodel your kitchen keep lighting in mind. You want it to be a well lit area so that there are no issues with sight. A well-lit kitchen versus a one that is darker and with dark countertops, cabinets, etc will make a huge difference.
Vienna, VA Kitchen Remodel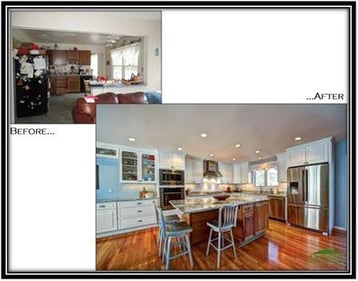 This kitchen remodel in Vienna, VA underwent a major transformation. The load bearing wall in the before photo (along the back with the cabinets) was removed and the old kitchen was relocated to make it a bigger space.
This kitchen remodel has several great qualities to age in place. Not only is it well lit, but as you can see in the photo pictured below it is very open with plenty of space to maneuver around.
In the angel below you can see additional cabinets for storage that were strategically placed at lower levels to be able to open easily. As well as the appliances you can see in both photos were installed to be easily accessible.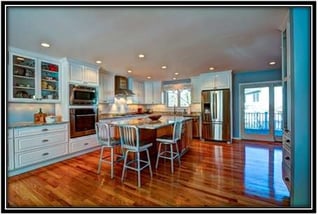 Northern VA Contractors
Moss Building & Design is happy to help you plan your Northern VA kitchen remodel whether you are planning for the future with aging in place in mind or your just want an updated kitchen. Check out our kitchens portfolio for more examples of the work we've done in Northern VA. We also specialize in home additions, basement remodeling as well as bathroom remodeling. As a result of the many requests by Moss Building & Design customers who already know and trust the Moss name, we also offer home services including plumbing, electrical, handyman services, roofing, windows, siding, doors and much more. Moss will be your one call for any home related request…nothing is too large or too small. Call us at 703.961.7707 for a free estimate.