Remodeling Your Kitchen
We live in a day and age where you are capable of customizing pretty much every aspect of your life. From the meals you get to your style of clothes to your home; you can within reason have it anyway you want it! And that is a beautiful thing, and the beauty of remodeling. Don't like the kitchen you have now? That's fine, you can pull and replace everything to have the kitchen of your dreams! Or maybe you like the layout of your kitchen and you just want to give it an update? That's fine too and a common way people get a better looking kitchen for less.
Remodeling Your Kitchen With The Best Northern VA Kitchen Contractors
At Moss Building and Design, we specialize in giving you the home of your dreams! From modern style kitchens to traditional kitchens we've pretty much seen it all. Neither is right or wrong, some people prefer more traditional kitchens and others prefer modern, bold styles. We're going to look at three of our kitchen remodels to show you the various ways you can get the kitchen of your dreams.
Kitchen Remodels in Arlington, VA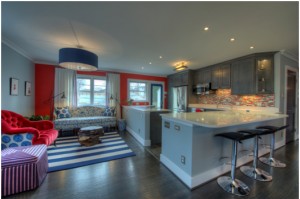 This kitchen remodel in Arlington, VA (photographed above) transformed a small, outdated kitchen to a rustic, yet very modern kitchen and living area. The backsplash and red accent wall really add a modern feel and color pop to the whole scheme. Not to mention, the very modern furniture and décor which also adds to the futuristic look of this kitchen/living area.
Another kitchen remodel in Arlington, VA went from a small, cramped space to a modern and sleek open area for everyone to enjoy.

Oakton, VA Kitchen Remodel
Looking at a kitchen remodel in Oakton, VA went for a more traditional look. This remodel really brightened up their kitchen and gave it a whole new look without even having to change the floorplan! Again, there are no big pops of color here or anything to give it a futuristic look. This one is more of a classic, timeless look that will always be "in."

Want to see more of our kitchen remodels? View our kitchens portfolio.
Northern VA Kitchen Contractors
We want you to enjoy your kitchen remodel and the entire remodeling process. Because after all, it is an exciting time for you and once the process is over and your Northern VA kitchen remodel is complete, you will have the kitchen you've always wanted and that is something to be excited about! We work very hard to be transparent and communicate clearly and efficiently to all of our clients. Anything we can do to take the stress from you—we will do! Whether you want a bigger kitchen or you want an updated kitchen with the same floor plan, Moss Building & Design is here to help every step of the way! For a free estimate please call us at 703.961.7707. We specialize in home additions, basement remodeling, and kitchen remodeling & bath remodels. As an established Northern Virginia contractor we know what it takes to transform your house into the home of your dreams. As a result of the countless requests by Moss Building & Design customers who already know and trust the Moss name, we also offer home services including plumbing, electrical, handyman, tile, roofing & siding, structural work and much more.