Your kitchen cabinets are the focal point of your kitchen- a place to prepare food, a morning relaxation spot, the family gathering place, the homework spot, or the late-night eating hotspot. So when you decide to remodel your kitchen, a major decision will come in whether you change the cabinets in your kitchen.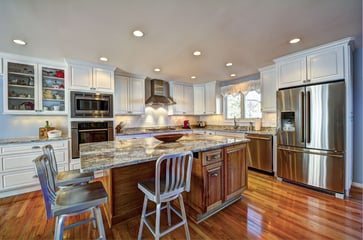 Tip #1: What Determines a Good Kitchen Cabinet?
When looking for cabinets, look for quality construction. We recommend a semi-custom line of cabinets that can offer standard features such as:
dove-tailed drawers
full extension drawers
soft close on doors and drawers
large selection of quality finishes
Tip #2: Decide Your Needs in the Kitchen
Do you need more storage in your kitchen? Can you move easily in the layout of the room? Decide what you like and don't like in your kitchen and this can be a major influence in deciding what you need in a kitchen remodel.
Most semi-custom kitchen cabinet lines can give you more range in your kitchen with options for additional storage and a functional layout by placing storage for baking items near the oven for easy access and room for a waste basket near the sink.
How to Choose the Wood of Your Kitchen Cabinets
Choosing a wood for your cabinets is determined by the space of your kitchen. This is due to lighting and square footage. For example, dark cabinets in a small space will only make the space feel smaller. Erin generally recommends a combination of maple with MDF (medium-density fiberboard) center panels for painted cabinets to minimize cracking in the finish. For stained cabinets, the most common are maple and cherry, but that has been a current rise in unique, veneer uses of walnut and hickory.
Current Trends in Kitchen Cabinets
White and shades of white continue to be popular for cabinetry with a rising trend in gray stains and paints. A new trend is creating a major focal point in your kitchen. This includes using unique color options and making your island, for example, the focal point of your kitchen.
As well, there has been a rise in paneling appliances and hiding them rather than showing them off which was the former trend.
Hardware for the cabinets continues to play with polished and gold tones although the newer trend of pewter and brushed finishes continues and appears to give a timeless look. In looking to future trends, the hidden hardware will play a role and that styles will get more streamlined in contemporary kitchen design.
Generally, cabinets are dependent on region and the architecture of the house as a whole to achieve a look in the kitchen that harmonizes with the home. Since different regions have different "common" architectural styles, it can vary from state to state, but major cities tend to stick closer to the rising trends coming in from Europe.
Follow our blog for more tips on kitchen and bathroom remodeling and also to get in-depth looks at our past projects.
Moss Building and Design
We can help you at any stage of your home remodeling project whether that includes selections of cabinetry or creating a design that works for your kitchen dreams. Our award-winning customer service will provide a beautiful kitchen, but also a seamless process. We also specialize in additions, bathroom remodeling, basement remodeling and handyman services. Call us at 703.961.7707 or email us at sales@mossbuildinganddesign.com to schedule a free estimate.
Photo credit: http://theinspiredroom.net/wp-content/uploads/2013/01/two-toned-kitchen-cabinets.jpg