With Limited Time Special Payment Option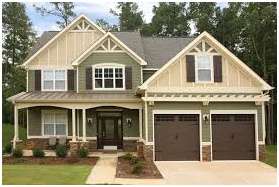 Image courtesy of www.windurasolutions.com
By – Jenn Zschunke (jzschunke@mossbuildinganddesign.com)
With winter weather almost behind us, it's time to begin thinking of your Northern Virginia home's exterior and any updates that it might need following the heavy precipitation and freezing cold we have experienced this year. With that in mind, Moss Home Services is pleased to be able to offer James Hardie's unique and highly desirable siding options for our clients with a special, limited time payment option: if a Northern Virginia homeowner receives an estimate and signs up to have James Hardie siding installed by our handymen specialists between now and the end of May 2014, they will have the option of receiving a 2 year, 0% interest payment option ($4,000-$45,000).
What is Special About James Hardie Siding?
Moss Home Services, Northern Virginia's premier handyman company, knows that there are multiple siding options available to our clients. We have chosen to partner with James Hardie, which has based its unique siding options on research and years of experience, specifically tailored to provide its clients with sound durability, beauty, and higher performance.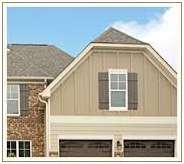 Image courtesy of www.jameshardie.com
What Moss Home Services Can Do For You
Besides providing handyman services for your Northern Virginia home, ranging from simple to complicated projects in the interior of the home, our handymen are expert exterior siding installers. They can take off and discard of your existing siding and replace it with James Hardie siding, which is currently on more than 5.5 million homes in the country. Along with its 30 year non-prorated, transferable, limited warranty and highly researched and developed siding, which is made of durable fiber cement, James Hardie offers a variety of styles and colors for its siding, created to both withstand climactic variances and color options. Moss Home Services offers the full range of James Hardie products and provides expert professionals to update your Northern Virginia home.
Siding is Not Cost-Prohibitive
Updating the siding of your Northern Virginia home is not the least expensive change you can make to your home. Moss Home Services is aware of this, and therefore has developed this limited, special payment option specifically for our clients. As this is a limited time offer, we are encouraging our Northern Virginia clients to take advantage of this payment option and use this opportunity to update and further add value to their Northern Virginia homes.
If you have an interest in the payment option, you must ask your Moss Home Services sales consultant for the promotional code when you are ready to sign the contract. The following steps are also necessary.
Step 1: Call the Express Loan Program, 866.405.7600, and choose option 1
Step 2: The lender will ask you for our dealer ID# 8437
Step 3: Provide the lender a loan promotional code (provided by your Sales Consultant)
Step 4: After you are approved EnerBank will provide the details to complete the final steps
Step 5: Once we are notified that your documents are completed your homeimprovement process will begin
1. Loans provided by EnerBank USA (1245 Brickyard Rd. Suite 600, Salt Lake City, UT 84106) on approved credit, for a limited time. Repayment term is 24 months. The first monthly payment will be due 30 days after the loan closes. 0% fixed APR.
Northern Virginia's Premier Home Improvement Company
Moss Home Services is the top home improvement company in Northern Virginia. Moss Home Services is a division of Northern Virginia's award winning remodeling company Moss Building and Design. Moss Building & Design specializes in additions, kitchen remodels, bathroom remodeling and basement renovations. Moss is your one stop shop for all your home improvements in Northern VA. Contact the experts at Moss Home Services at 703-961-7707 for a free estimate and to learn more about James Hardie siding.
Jenn Zschunke is a part of the Community Relations department. She plans HandyMom 101 workshops for Moss and coordinates philanthropic activities in her local community.