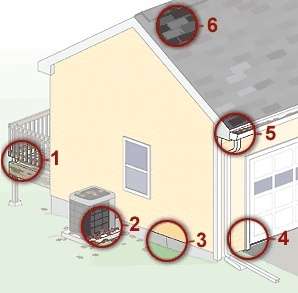 By – Jenn Zschunke (jzschunke@mossbuildinganddesign.com)
Spring is here! Northern Virginia received some (very welcome) warmer weather this past week. With our clients beginning to spend more time outdoors both enjoying the weather and fixing up their homes, Moss Home Services wanted to share a few important list of items that every homeowner should check off their list to fully be able to relax!
Home Improvement Tip #1: Check your deck for water damage
Moss Home Services advises its Northern Virginia clients to check their decks for any water damage after an especially wet winter and rainy early spring. Homeowners should carefully inspect for water damage where the deck meets the house as this can cause structural damage. If you suspect your deck is weakened, contact a professional to ensure your family's safety. Also, be sure to clean your deck of any mold or mildew, preferably using a power washer.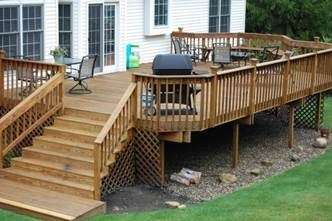 Home Improvement Tip# 2: Air Conditioner Unit
It is hard to believe homeowners would need to utilize an air conditioner after months of extremely cold weather, but fear not – the heat and humidity of the area will be upon us soon. With that in mind, Moss Home Services recommends that its clients to clean their air conditioner unit of any leaves or debris that might have gotten into it since their fall inspection. Be sure to disconnect the power to the outdoor unit prior to cleaning with a power blower, vent brush, or garden hose.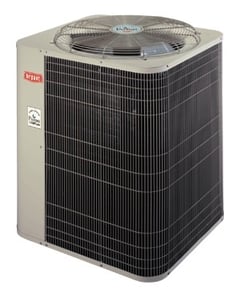 Home Improvement Tip# 3: Foundation
Moss Home Services advises its clients to do an exterior check of their home foundation to check for hairline cracks or settling that might have occurred. We would advise the removal of leaves or other debris from around the base of any home as well, to make sure rodents or other animals are not finding any way into your home.
Home Improvement Tip #4: Garage Doors
Check electronic garage doors each spring to make sure they are balanced. Pull the orange handle on each door and lift the door manually – it should open easily and smoothly. It should also stay open on its own about 3 feet from the ground. If not, and/or you suspect any other issues with your garage door, Moss Home Services can provide you with the name of a reputable garage door company for repair and maintenance.
Home Improvement Tip # 5: Gutters
Moss Home Services always advises that its Northern Virginia clients clear the gutters of their homes. Clogged gutters can lead to a host of issues, especially leaking.
Home Improvement Tip # 6: Roof
Moss Home Services is an expert at inspecting roofs for damage in the post-winter months. We would recommend Northern Virginia homeowners do checks in their attics for any leaks that might have occurred, especially in the areas around the chimney and any skylights.
What Moss Home Services Can Do For You
Besides providing handyman services for your Northern Virginia home, ranging from simple to complicated projects in the interior of the home, our handymen are experienced in spring maintenance of homes, including checking any or all of these items off your list.
Contact the experts at Moss Home Services at 703-961-7707 for a free estimate and to learn more about our services.
Jenn Zschunke is a part of the Community Relations department. She plans HandyMom 101 workshop programs for Moss and coordinates philanthropic activities in her local community.
<i>Photo Credit:</i>
www.consumerreports.org
http://hoehnenlandscaping.com/
http://blog.farwestclimatecontrol.com/2012/05/10/what-is-a-central-hvac/
<a href="http://www.gutterworks.com/">www.gutterworks.com</a>