Where To Begin With Your Kitchen Remodel
Many people want to remodel their home and update their kitchen, but they don't know where to start. The idea of beginning your kitchen remodel is overwhelming and you've heard terrifying stories about contractors. At Moss, we set out to make those industry stereotypes disappear. We have specific systems in place that have been proven successful to make your kitchen remodeling process an easy one.
Get Your Kitchen Remodel Started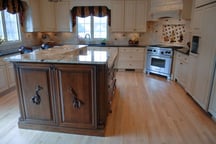 Whether you've been planning your new kitchen remodel for years, or if you don't know where to begin, Moss Building & Design can help you get started and turn your kitchen into the one you've always wanted.
We offer free consultations. You'll meet one-on-one with one of our Moss professionals who have years of experience in this industry. This is your time to share your ideas and to get feedback from our professionals. We'll listen to your needs and make suggestions along the way. This initial meeting is to listen and offer any helpful insight. This is free to you whether you hire us to do your kitchen remodel or not.
Fixed cost proposal. After your initial free meeting, our kitchen designer will work on the design you discussed and prepare your proposal. Unlike other companies in our industry, our proposal price is not going to contain any surprises at any point in the process. We put a lot of time in preparing your design and proposal so that the number you see will stay the same throughout your remodel. Again, this kitchen design and proposal is free to you whether you hire us or not. We will send you the proposal and are always available to discuss any questions or comments you may have.
Team management. After you hire us for your kitchen remodel, you will be introduced to the team that will be delivering your new kitchen. Your team will consist of the Sales Consultant who originally met with you. They will be available during your kitchen remodel to answer any questions you may have. The next team member is a Customer Care Manager. This person will help you with selections, give you their opinion, and be your shoulder to lean on should you need one. Their job is to make your life easier. They can be as much or as little involved as you like. The last member is you Project Manager. The Project Manager of your kitchen remodel will manage the construction of your new kitchen. They'll always keep you in the loop as to what to expect and let you know ahead of time should anything change. They are always available to answer any questions and tackle anything that comes their way.
Industry-best project management. We want to make your kitchen remodel an easy process and we want you to be involved. For you to stay in the loop, and to know what is going on at all times, we have developed MOSS Online. MOSS Online is an industry best project management tool that allows you to view the status of your kitchen remodel at anytime, anywhere. You can keep track of the progress by checking the photos your project manager uploads. You can view your selections, your budget, and so much more!
Get The Kitchen You've Always Wanted With Moss Building & Design
We will deliver the kitchen you've always wanted AND a stress-free process. We believe in a beautiful project, but also in a superior process where you are always informed. Our customer service has been acknowledged on Houzz, Yelp, Angie's List, and other online consumer sites. As a fourth year winner of the Angie's List Super Service Award, we know what it takes to turn your house into the home of your dreams with the care of remodeling it as if it were our own. Call us today to get your kitchen remodel started with a free consultation at 703.961.7707