Who knew drywall repair was so funny?
By – Jeannine Miller (jmiller@mossbuildinganddesign.com)
We started the New Year off right by meeting with the nicest group of ladies at the Cedar Run Community Church on January 3rd. The Cedar Run MOPS (Mothers of Preschoolers) invited us to present our HandyMOM 101 workshop at their monthly meeting. MOSS design consultant, Valerie Irons, gave the talk "Growing Within Your Basement" which showed how a family can remodel their basement very simply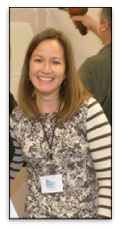 when children are toddlers and basements can evolve as the kids and their interests grow. Moss Home Services GM, Nathan Shaffer, followed with a HandyMOM 101 Patch-It workshop which, as you can see from the above picture, was a big bunch of fun!
Whenever an organization hosts a HandyMOM 101 workshop, Moss gives them a Handyman For A Day as a thank you gift, which the group can use however it sees fit. Some groups give this gift (valued at $650) as an attendance prize, some save it for a future fundraising auction and some groups do what the Cedar Run MOPS did and donate the 8 hours of free labor to a member in need. We thought that kindness was so lovely that we donated a second Handyman For A Day for the group to raffle off the day of the workshop. I'm pretty sure winner, Sandi Mitchell, liked that idea!
If our HandyMOM 101 workshop series sounds like something your group would like to try, please let me know!