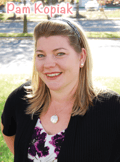 by Pam Kopiak (PKopiak@MossBuildingandDesign)
I am feeling good. Spring break is over and now that the kids are back in school I can sit (by myself) and enjoy the lovely scenery of nature blooming in my back yard. This is such an exciting time of year for me. Now that the weather is getting nicer, my schedule really starts to fill up. Between soccer practices/games and outdoor activities, it is honestly hard to stay inside and keep up with everything (my laundry pile is growing as I type). Not only is this a busy time for myself, it is busy season for the MOSS Community Relation Team as well!
And The Winner Is…
If you have a child in school, you most likely have come across the "annual auction". I know I have attended my fair share and have probably bought way too much along the way. But these auctions are a great way for schools to bring in much needed money for projects not otherwise provided for. At MOSS we love helping out with donations when we can and in April and May alone plan to donate our ever popular Handyman For A Day to five local Arlington elementary schools.
Did Someone Say Arlington Home Show?
Also rapidly approaching is the Arlington Home Show and Garden Expo at the Thomas Jefferson Community Center on April 9, 2016. If you have driven around Arlington lately then you know THIS is the time for home renovations. Everywhere I go I see work trucks. If you are thinking about renovating or remodeling then visiting us at the home show might be a good way to get some ideas. Or maybe you are just interested in finding out what out HandyMOM 101 workshops are like – come join us at the main stage for our Patch It workshop at 2 p.m. All are welcome!
If you are interested in booking a workshop or you have an event you would like us to consider sponsoring, feel free to contact PKopiak@MossBuildingandDesign.com. If you would like to discuss your remodeling plans or have general questions call MOSS at 703.961.7707 or email Sales@MossBuildingandDesign.com.
Give us a Call: 703.961.7707
Send us an email: Sales@MossBuildingandDesign.com
Get Inspired: Portfolio