By -Pam Kopiak (PKopiak@MossBuildingandDesign.com)
If you ever have some frustration that you just need to let out, you may want to consider joining us for one of our HandyMOM 101 workshops. We let our moms throw the hammer and then patch up the hole they made!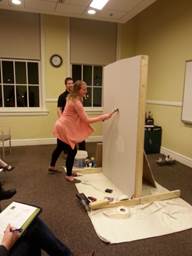 On Wednesday, February 11th, MOSS was invited to be the speaker for the MOMs Club of Fairlington. Greg, a MOSS project manager, did a great job of walking the ladies through the process of repairing those pesky dings and holes in the wall.
He answered questions specific to some of those older Arlington homes. Nail pops in the wall? Ok. Nail pops in the stairs? Wow! Now that is some good information to have. Gotta love our "sturdily built" homes we have here in Arlington.
What makes our workshops so fun is when our moms get involved. Above, one mom creates a hole so that Greg can demonstrate how to patch it.
By the end of the night, the ladies have chatted with one another, learned a new skill and most importantly, escaped the kiddos! It's a great! I always enjoy partaking in the workshop, but I also like meeting all the women. After the presentation, the ladies can mill around and personally ask questions of our technician.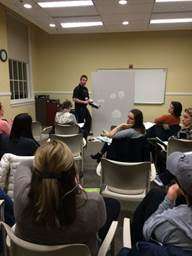 The night ended with our $250 Moss Home Services gift certificate winner. Eden walked away with $250 that she can put towards her next Moss Home Services project which can cover a number of home improvementsfrom plumbing and electrical to handyman repairs.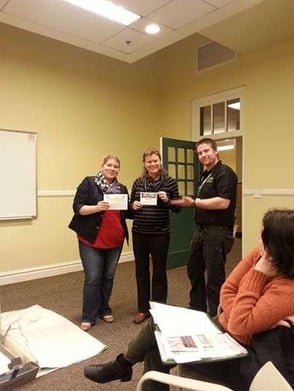 If interested in our HandyMOM 101 workshop, let us know if you would like us to do a presentation for you! We are also now offering our newest workshop, Power It, which made it's grand debut on the main stage of the Home +Remodeling Expo Show in January.
Pam Kopiak is part of Moss Building & Design's Community Relations Department. If interested in planning an Arlington HandyMOM 101 or HandyGirl 101 workshop programs, contact her at PKopiak@MossBuildingandDesign.com.