Northern VA Modified Accessibility Designs
President Ronald Reagan declared March Developmental Disabilities Awareness Month in 1987. This was an attempt to ensure that Americans with developmental disabilities had the encouragement and opportunities necessary to reach their full potential. This step has led to a larger awareness of those in the community with these disabilities in an effort to fight against a number of discriminations.
At MOSS, community is integral to what we do whether it's helping our local kids' sports leagues or our Community Relations' sponsorships. Among our clients, we have entered into a specialized community for whom we enter their homes, a personal and integral space, in order to better help it function for their family. Often, we have needed to address how a home can better serve someone with disabilities so that a person isn't working for their home but rather their home is better working for them.
Accessibility Remodeling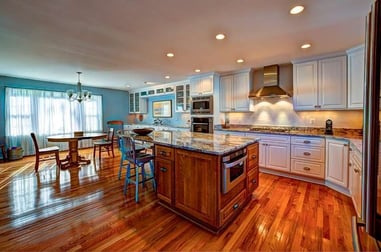 In this kitchen remodel in Vienna, VA,(seen above) a husband needed the kitchen to be functional after the effects of a stroke. This meant ensuring that the layout was conducive to the size of a wheelchair and that the height of the countertops and appliances would be easy to reach.
A condo remodel in Arlington, VA, involved a modified accessibility design for a client with cerebral palsy, especially in the kitchen and bathroom spaces (seen below).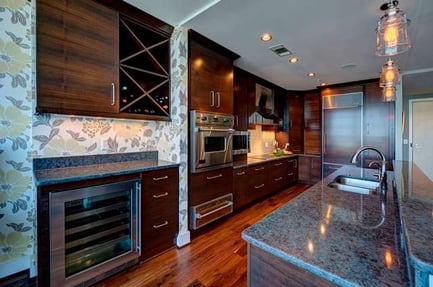 The biggest concerns for the client were ensuring the space was power chair accessible as well as creating a space that fit her traditional style and would allow for entertaining. Kitchen accessibility came through:
Full access cabinet drawers
Addition of 2 dishwasher drawers
Relocation of the microwave to a lower location
Integrated cooktop (through control of heat and limiting the possibility of burning oneself on the unit)
Quartz was used as the countertop material in order to be low-maintenance and have a great look.
In the bathroom, an accessible shower was installed with a shower bench.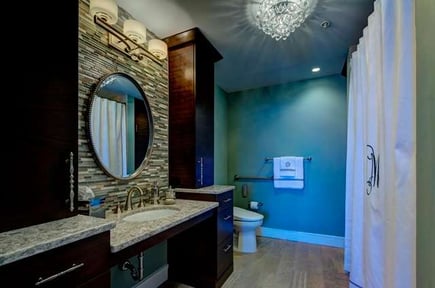 While this month lends itself to a larger discussion in a larger community about recognizing and incorporating those with disabilities, our company is able to address another real issue for those with disabilities. The home and how it functions for them.
The home is the most important place when it comes to serving your base survival needs but it also has to do with family and comfort. Whether working with designers specialized in accessibility designs or physical therapists, we've been able to help our clients bring together a home they love and a home that serves their needs.
Top Northern VA Remodeler
At MOSS, we stand by the statement that we are the "remodelers who care." We care about delivering a quality product, providing superior customer care, and helping our clients make informed decisions for their family, home, and budget.
No matter where you are in the process, you can call us at 703.961.7707 to get more information or to set up an in-home consultation with one of our highly skilled Sales Consultants.