Maximizing Every Space In Your Kitchen Remodel
Every inch counts when you're remodeling your kitchen. Even the smallest of spaces that you may have overlooked can make your life more convenient. When remodeling your kitchen, look for ways that to utilize as much space as possible. You want a kitchen that looks beautiful, and functional.
Try These Remodeling Ideas For Your Kitchen Remodel
We've researched some creative ideas that you could add to your kitchen remodel by utilizing as much space as possible. Some of these include:
Add baseboard cabinets
Install built-in wine racks or shelves for storage
Build a mini fridge in the kitchen island
Installing baseboard cabinets really takes on the meaning of using every inch of your kitchen. You can store baking sheets, and other items that can lay flat in these baseboard cabinets. This will then free up other storage space in your kitchen.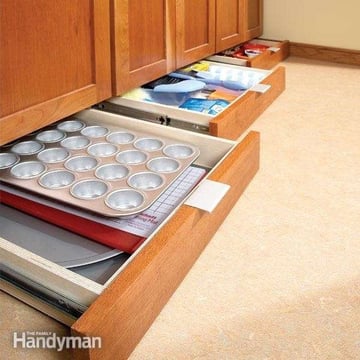 Maximize Space In Your Kitchen With Built-In's
Utilize otherwise dead space by installing built-in storage, like a wine rack.
This kitchen remodel in Reston, VA took advantage of the island and added additional storage space with shelves to store some of their items.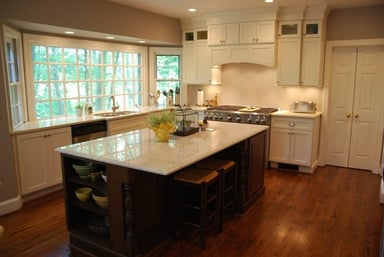 This kitchen remodel in McLean, VA is a great example of a built-in wine rack. This wine-rack is built into the kitchen island, so the wine can be stored without taking up any unnecessary space. This kitchen renovation also includes built-in appliances with plenty of cabinet space.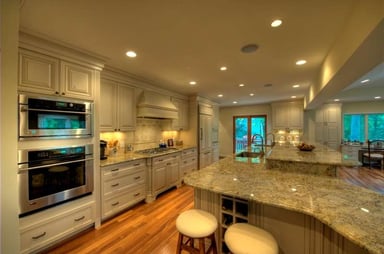 Another kitchen remodel in McLean, VA, also utilizes the kitchen island for additional storage space. This is a great alternative for storage in your kitchen.
Include A Mini-Fridge In Your Kitchen Renovation
Build a mini-fridge in your kitchen island to hold snacks for the children, adult beverages, or juice boxes. Either way you'll be saving a lot of space in your fridge and you won't have an extra appliance taking up space in your kitchen.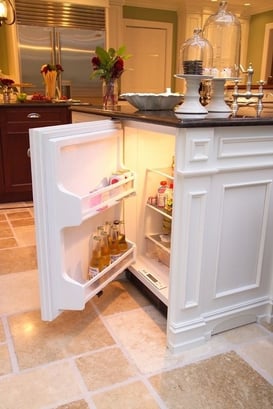 Kitchen Remodelers in Northern VA
Whether you need some help coming up with some creative ideas for your kitchen remodel, or if you are looking for a contractor to turn your vision into a reality, Moss can help. Our designers can help whether you're at the beginning of the planning process or more advanced. Our award-winning customer service will provide a beautiful kitchen, but also a pleasant process for you to enjoy. We also specialize in additions, bathroom remodeling, basement remodeling and kitchen remodeling. Call us at 703.961.7707 to schedule a free estimate.
Credit: http://www.buzzfeed.com/peggy/insanely-clever-remodeling-ideas-for-your-new-home