Basement Remodeling in Northern VA
At Moss, we firmly believe in bringing together your remodeling dreams. When beginning the remodeling process, you can get ideas from blogs, real-life homes, Pinterest, and even magazines. But one of the most important steps in the remodeling process is taking advantage of your home. Though you might appreciate a design you see in magazine, the case may be that the style or the space that such a design requires does not fit your home. So while it's a good idea to look around to figure out your style and what ideas you'd like to implement, you should remember to design these ideas with your actual home in mind.
So take a step back in your remodeling plans and look for spaces that are being under-utilized. A common room is a basement. Basements usually become a catch-all in a home and never really reaches their full potential. In order to change this you should consider how you want to use your basement but you also want to envision how you will use it in years to come. This latter point is important because if you have children, you will find that your basement uses will change over time. When your children are young, it may be used as a play area. But as they age, you many want to create a family space for socializing or create room for an extra room for one of your children.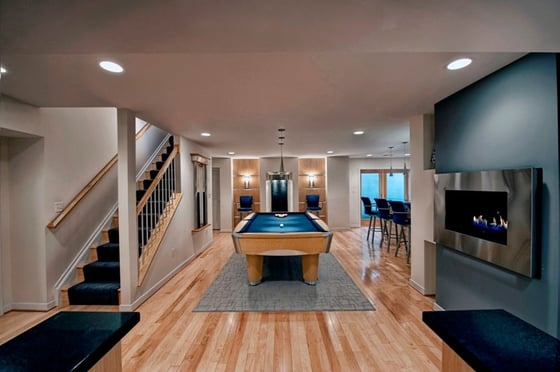 In order to make sure that your basement is ready to move from each phase of your life and to remain useful, there are some basic fundamentals that should be in your basement to make sure that this is possible. In today's blog, we will focus on one aspect which is to make sure that your basement is flood-proof.
Flood-proof your Northern VA Basement
Here are a few steps to ensure that your basement is flood-proof that involve some preventative steps:
Leaks typically come in from rotted wood around windows. This will involve caulking around your basement windows or replacing the wood around your windows with either aluminum or vinyl products.
Pay attention to how the earth sits around your home. If it doesn't naturally slope downward from your home then you may get water that pools next to your home and seeps in any way you can—typically your basement.
This tip ties in to our next point, but your gutters must remain clean in order for your downspouts to operate. If your system is clogged, water will discharge onto the ground thereby allowing for leaks in your basement. A Moss tip is to clean your gutters at least twice a year to ensure that your gutters function as they should.
Downspout extensions can prevent water from pooling around your home. These extensions will discharge water that comes off your roof and gutters away from your home.
Basement Remodeling
Finishing or remodeling your basement is one of the easiest ways to get additional space. Our special turnkey teams can finish a basement in just 3-4 weeks. They are the same team that will work on your job from start to finish, so you won't have any unfamiliar faces in your home. If you'd like additional space and would like to start by finishing or remodeling your basement call us at 703.961.7707 for a free estimate. We also specialize in remodeling additions, kitchens, bathrooms, and basements.