Homeowner Shares Her Story About Her Northern VA Kitchen Remodel

By – Jenn Zschunke (jzschunke@mossbuildinganddesign.com)
Three years ago, my husband and I made the decision to re-do our kitchen. This was no small task. We had two young boys and knew that renovating the kitchen in our Northern Virginia home (which would include knocking down a wall into our dining room, thereby rendering almost the entire upstairs of our split foyer home useless) could wreak havoc on our lives. We would have to "cook" (I say this loosely) in our mud room and hope that whichever Northern VA contractor we chose could stick to a reasonable schedule. A 3 year old and 1 year old have a LOT of energy. Keeping them confined to one room for weeks on end could cause anyone to run screaming from their own lives. And to top it all, we decided to do this over the winter – the Snowmaggeddon Winter, in fact. It could have all gone terribly, awfully wrong.
But we were referred to Moss Building & Design. From the start, I assigned myself the title of Project Manager…meaning, I took all my pent-up former professional tactics (as I had been a -stay-at-home mom for years by then) and applied them to the kitchen renovation. (Read: I wasn't exactly easy to work with.) Micromanager anyone? But I was assigned a team of sympathetic human beings from Moss, who all made me feel as if my small home renovation was their most important job. They gave me advice when I asked for it, room to make my own decisions, worked with me on the smallest details and, most important to us, stuck to their schedule.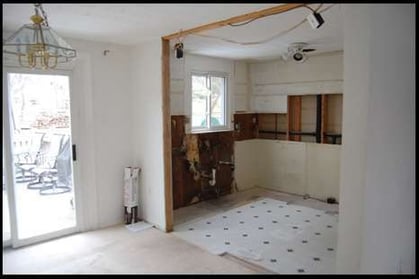 And, oh, what a kitchen I ended up with! I went from a very outdated, not-very-nice set of rooms, to a beautiful country kitchen with wonderful cabinets, good lighting, a lovely backsplash, and so much more. It made a world of difference. You know how some people have buyer's remorse? I haven't had one single day of remorse or regret – I actually think I have loved my kitchen more and more with each year.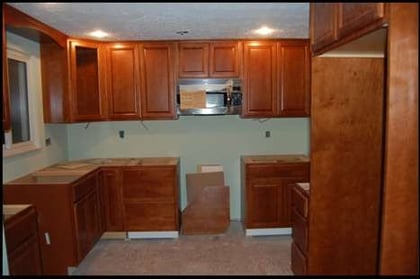 Sadly, my family is moving from our home – we've added another little boy to our family and we need more room. But, oh, my kitchen. If I could take it with me, I would. I love my new house, but when you put so much care and attention into something, and feel like your contractor took such good care of you, you can't help but feel sad that you have to leave it behind and pass it along to someone new.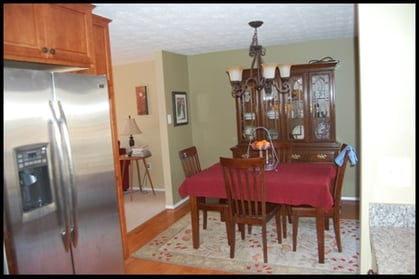 So is it possible to feel a level of grief over material objects? Is it okay to be depressed about your granite? Can a person be allowed to shed tears over a home transformation? I'm here to say "YES, it's okay." Because I know I will probably go through the wringer after we leave our home…and our beautiful, awesome, kitchen. Maybe I'll take one cabinet door. No? Darn. L Sniff.
Jenn Zschunke is a new addition to our team here at Moss, specifically playing a direct role in our Community Relations. She plans HandyMom 101 workshop programs for Moss and coordinates philanthropic activities in her local community.