Skip the Peninsula And Go For The Island
The holidays are a time when many homeowners entertain –whether it's a small group of family members or a big New Year's Eve bash. If your house is set up for entertaining, it makes the whole process more enjoyable and easier on your nerves.
Below are some ideas on how to remodel your Northern VA home to make it more enjoyable when entertaining guests in your home.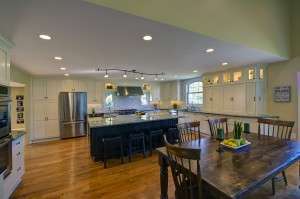 Kitchen Design:
A kitchen is where guests inevitably congregate – it's the source of the food and it is usually the best place to visit with the host. Make sure your kitchen's layout takes this into account. There should be plenty of floor space for multiple cooks, caterers, and guests to walk around. This kitchen in Oak Hill, VA photographed to the left has a great floor plan for entertaining with plenty of open space.
Kitchen Island:
Unlike peninsulas, kitchen islands contribute to an open floor plan in your home and allow people to circulate through the room. The island can be the place to stage food which is waiting to be put out or can be the spot for serving the buffet. Many islands are on the outer perimeter of kitchens, providing a dividing line between the food prep area and the entertaining area. Guests can visit with the cooks while staying out of the way of food preparation activities.
Appliances:
If you entertain frequently, make sure you have the appliances you need. An extra dishwasher will keep dirty dishes from piling up. You will want a large refrigerator – or an extra one in an out-of-the-way location. If you do a lot of cooking, you might want a double oven or an extra large cooktop. Homeowners who make a lot of drinks might want a wet bar in the kitchen, family room, or other public space. A wet bar in the kitchen can be positioned near the wine fridge and ice machine so you have a separate drink preparation area.
And, most importantly, make sure the appliances you have are in good working condition. The last thing you need is to have an oven that stops working in the middle of a party (You can contact Moss Home Services and we can inspect your appliances as well as HVAC and insulations needs)

Outdoor Projects:
It may sound crazy but while the weather is bearable outside, you can save money on outdoor projects. Many outdoor items will be considerably marked down during this time of year since they're not in demand. Some great home remodeling projects you might consider for the outdoors might include a walkway or deck. You may be able to find some great deals on stones that you could easily install during the winter months to create a walkway to the garden.
Rooms for Entertaining:
One great wintertime project is remodeling a basement or an unused room to create more usable space. Your basement can be a great place for entertaining. It can be a game room with a pool table, pinball machines, or a video game area. Basements are also great places for home theaters. One of the newer trends is custom-designed wine cellars which include wine tasting rooms.
No matter what you do, the most important thing is to enjoy the holidays and the time you have with family and friends. The family at Moss Building and Design and Moss Home Services wants to wish you a happy and healthy holiday.
Contact us for a free consultation or for more information email us at JJameson@mossbuildinganddesign.com or call 703.961.7707