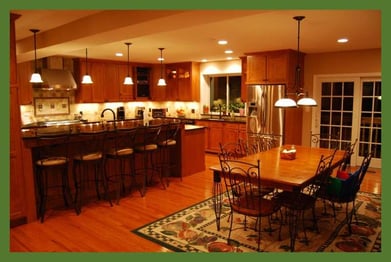 The Right Contractor For You & Your Family
By – Jeannine Miller (jmiller@mossbuildinganddesign.com)
I just got back from a lovely beach vacation during which I read a great book, Rules of Civility by Amor Towles. Among several great lines, this one stood out to me as I think it relates to many things in life, including home improvement: "If excellence is to be expected, you can't ask the wrestlers to throw the javelins." Of course, many wrestlers probably can throw a javelin, but just because you can do something doesn't mean you're the best choice for the job.
Bathroom Remodel
When hiring a builder for your home improvement project, the same logic applies. I only wish I had realized this when I had two bathrooms remodeled a few years ago. I started the process by getting a few names from friends and got a few bids. Since I was pregnant with my third child, my number one requirement was having this project finished by the time the new baby came. My husband's number one requirement was that we get the best price. So we selected the "company" that met those two requirements, not the one we actually wanted. Oh, what a painful lesson.
One example of my "best price" experience…at 8 months pregnant, I loaded my 4-year-old and 16-month-old into the U-Haul I rented (husband was in Taiwan) and ran around town picking up crappy vanities and supplies from home improvement stores because I was given one day's notice that they were ready to install said vanities. This was in addition to the umpteen times I was asked to make urgent trips to Home Depot, which always seemed to be just after I had put the kids down for naps.
The [rancid] icing on the cake: All told, the price we paid for those bathrooms was nearly exactly the same as the all-inclusive price of the company I really wanted to use, but thought I couldn't afford. And guess what wasn't completed by the time my beautiful daughter was born? MY BATHROOMS.
Do Research Before Choosing A Contractor
Take a lesson from my experience and do your homework before hiring a contractor. In an area like Northern Virginia where there are thousands of people who would like to work for you, starting with the following questions/steps will help you narrow the field and make the best decision.
Does your business carry a current Class 'A' Contractor's License? Verify it!
Check the Consumer Affairs Branch of your local government to see if a complaint has been filed against the Contractor.
Can you provide proof of liability insurance and workman's compensation?
Can you supply a reference package?
Does your business provide a warranty?
Does your business provide a full-time customer service representative?
Are you a member of NARI (National Association of the Remodeling Industry)?
Once the above questions are answered, check out the Remodeling Advice on our website for tips, ideas and FAQs pertinent to specific project types. While it may not be the fun and pretty part of remodeling, time spent making sure you hire the best builder for your job will go a long way toward your overall satisfaction.