Add Space For A Homework Station in Your Kitchen Remodel or Turn An Unused Closet Into A Reading Nook
Another school year is upon us. Does your child enjoy reading and completing other homework assignments? The answer is probably no. Parents are always looking for ways to show their children that reading and learning can be fun. No one enjoys the evening struggle of trying to get your children to read or start on their homework. Not only will your children love reading and doing their homework, but you'll obviously be THAT much cooler for adding the new space for them!
A Reading Nook in Oakton, VA
More and more families are turning unused spaces in their home to reading nooks or homework stations. Unused closet spaces are becoming the go-to space for reading nooks. This allows your children to have a space that they ideally will enjoy reading in and even doing homework. Turning a closet into a customized reading nook is relatively inexpensive and the joy you will get from seeing your child reading in it will be priceless!
Reading nooks can be located in a hallway closet, bedroom closet, and really any location that isn't being used that you think would serve well as a reading nook. This reading nook that Moss Home Services completed in Oakton, Virginia was for a family whose daughter wanted a space all her own to read in. She had three closets in her bedroom and was not using one of them so Moss Home Services converted it into a reading nook.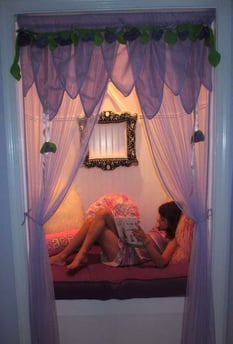 We heard from the family in Oakton, VA that their daughter loves reading in her nook. It also makes for great Mother-Daughter time. The homeowner enjoys being in the nook and reading to her daughter. She even admits to using the nook herself! It can be a great little getaway for children and other family members as well.
Adding A Homework Station To Your Northern VA Kitchen Remodel
Another fun idea is having extra space in your kitchen for a homework station. When planning your Northern VA kitchen remodel you should consider additional work space that can be used by your children while they are in school, and could then be converted into a working space for yourself once they go off to college.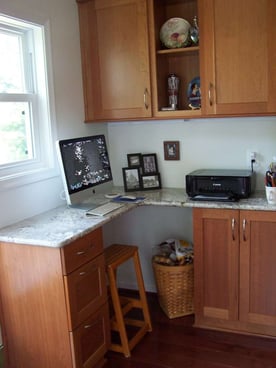 We completed a kitchen remodel in Oak Hill, VA that had extra space at the end of the kitchen that served as a work station. It was complete with everything they needed for a successful days work.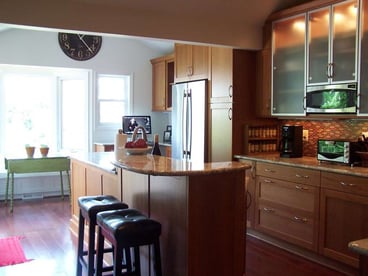 This type of space would be ideal for children as well. Having a clear surface to do homework on that doesn't compromise the functionality of the kitchen is great. Often times children will want to work at the kitchen table or at the counter, but that tends to get in the way when you are trying to prepare and serve dinner. This space is out of the way and doesn't take room from the table or counters, so it's a win-win for everyone. Plus you'll be right there to keep and eye on them and help them if they need it! It's a great way to use some of the additional space provided by your kitchen remodel.
Best Northern VA Kitchen Remodelers and Home Improvements
If you'd like to learn more about adding a homework station to your kitchen remodel in Northern VA or are interested in converting an used closed into a reading nook please call MOSS at 703.961.7707 for a free estimate. We specialize in home additions, basement remodeling, Northern VA kitchen remodeling & bathroom remodels. As an established Northern Virginia contractor we know what it takes to transform your house into the home of your dreams. As a result of the countless requests by Moss Building & Design customers who already know and trust the Moss name, we also offer home services including plumbing, electrical, handyman, tile, roofing & siding, structural work and much mor