Moss Home Services Offers Handyman, Plumbing, Electrical, Roofing and Siding and Any Home-Related Requests
Moss Home Services is a direct result of the countless requests from Moss Building & Design customers. Moss Building & Design, a Northern VA contractor remodels additions, kitchens, bathrooms and basements but faced a growing need for handyman services in Northern VA.
Northern VA Handyman
Moss Home Services offers a wide variety of home improvements. From porches and desks, finishing basements and offering handyman services in Northern VA, Moss Home Services will have you covered. No job is too large or too small. Moss is your one call for any home-related need in Northern Virginia whether it's a two-story addition or handyman services.
What Does Your Handyman Services Cover?
Moss Home Services covers EVERYTHING! "Painting?" Yes! "Tile?" Yes! "Well, I have some drywall that...." YES, any home related requests. A sample of our services include:
Basement refinishing
Caulking
Tile
Carpentry Services
Crown Molding & Trip
Drywall repair and installation
Electrical services
Plumbing services
Sump pump repair
Windows and door installation
Misc. Handyman services
And much more!
HandyMOM 101
In addition to our Northern VA handyman services we also offer DIY workshops called HandyMOM 101. Our workshops put the emphasis on women in the home improvement industry who want to learn how to take care of some of their home repairs themselves. Our workshops are educational but also hands-on. HandyMOM 101 attendees are encouraged to work alongside our handyman professional to learn each step of a specific home repair. We offer different workshops such as: Tile-It, Dim-It, Patch-It, and Fix-A-Leak to name a few! It's up to your Mom's or Women's group to decide what they are interested in learning about. Not to mention, the hostess gets a free handyman for a day just for hosting our workshop! There are no costs for having a workshop…the information you'll learn is priceless! Below are some photos from the different workshops we've done at different businesses or at Mom's groups in Northern Virginia.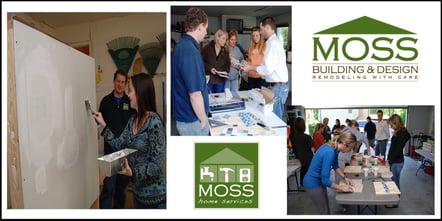 If you'd like to host a workshop contact Jeannine Miller at JMiller@mossbuildinganddesign.com
Learning More About Common Handyman Services and Home Repairs/Upgrades
Over the course of the next few weeks we are going to be focusing in on many common handyman requests such as exterior power washing, patching drywall, sound proofing basements, etc. We'll analysis each request, answer any questions and provide tips on how you can get the most for you money! Stay posted for next week when we kick off the Handyman blog series with Sound Proofing a Room in Your Home. If you have any questions about sound proofing email them to CMcAlister@mossbuildinganddesign.com and we'll cover that in our next post!
If you have any questions or would like to receive a free consultation call us at 703.961.7707
Like us on Facebook
Follow us on Twitter, Pinterest, Google+, and YouTube