By Jeannine Miller (jmiller@mossbuildinganddesign.com)
You would think with all my kitchen remodeling talk that my kitchen would be fabuleux (that's fancy talk for awesome). Well, it's not. It's the original 1986 kitchen. When we bought the house in 2003, I made a few minor updates to get me through to a real remodel, which I thought would happen within a couple years. Fast-forward 11 years and we're finally remodeling. Hallelujah!
This is exciting for me, not just from a personal perspective, but from a professional one too. Like most things in life, you cannot fully understand the process of a kitchen remodel unless you've gone through it yourself. Since over-sharing writing is my therapy, I've decided to write an ongoing blog about the experience. Hopefully, this will shed a little light on a process that many homeowners find mysterious. As a bonus, I've convinced my boss that springing for an open house cocktail party will be a great way to show off my new kitchen upon completion – score!
Everything starts with a plan. All the ideas Phil and I have been jotting down for years were dumped on Moss' principal designer, Erin Hoopes. She took a zillion measurements and now we have the "before footprint" from which to start.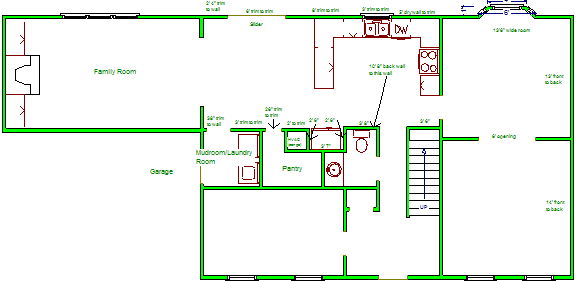 The main thing stalling our decision to go forward with our kitchen remodel over the years is an HVAC issue. We have this stupid bulkhead that runs right through the kitchen. It drives us crazy, but we've always assumed rerouting it would cost a fortune. Our project manager told us not to despair, that it might not be as bad as we think. He cut a few small holes to take a look and he was right! There was less in that bulkhead than its size would suggest. However, curiosity got the best of Phil and he just had to take a look. This is what I walked in one Saturday.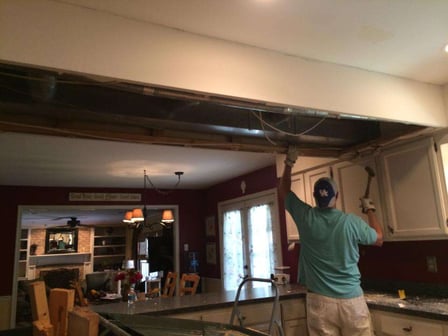 "My husband loves demolition" is the understatement of the year and this man was on a roll. The good thing is, with the peninsula out of the way, we will be able to fully visualize how the new design will play out.
Next step, consultation with the Kitchen Designer to review the proposal.
And now a word from my sponsor: If you're in the market for some home remodeling, call the experts at Moss Building & Design. We will consult with you and help you explore the many possibilities for updating your home. Call 703-961-7707 to schedule an appointment for a free estimate.
In addition to blogging about all things home and family-related, Jeannine Miller manages Moss Building & Design's Community Relations Department, which includes the popular HandyMOM 101 and HandyGirl 101 workshop programs.