The ladies of North Arlington, that is. Part of a group called Mothers of North Arlington (MONA) to be exact. They were ready to learn how to tackle their home improvements. The topic of the evening? Moss' "Patch It" workshop.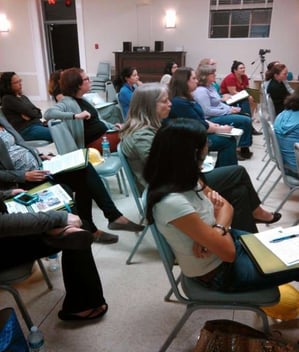 (Don't these ladies look like they are ready to take care of bid-ness?)
Have you ever had a child slam a door and get a big ding in the wall as a result? Or maybe there is an angry sibling (or adult for that matter) that kicks a hole in the wall by accident? Sometimes it might just be that area where you are trying to hang a curtain rod for the millionth time where no screw seems to stay in the wall no matter how hard you try.
Enter Moss. Our "Patch It" workshop will walk you through all these scenarios and tell you how you can be the hero of the day by fixing these problems yourself! No more waiting for your husband to get off the couch, and hey, you can grab yourself a drink when you're finished.
Not only do we show you how to do these things, we give you a list of supplies you will need for the job (which you can then take to Home Depot or wherever your local hardware store may be). We also print out the instructions for you to to follow once you are ready to tackle your project.
We start by showing the attendees how to repair small holes, say 1-5 inches (pretty simple), and then we move on to larger holes, 5 inches or more (a bit more involved but definitely doable). Then we move on to popped nails and filling dents in the wall (piece of cake). During the presentation, we like to keep things fun and interactive. We encourage questions and comments and ask for volunteers to come up and help.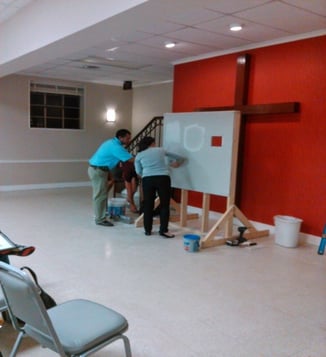 The ladies at this "Patch It" workshop were so involved, they weren't even distracted by the HUGE plate of cookies our host set out near by (the smell was heavenly I tell you!)
(Just look at these cookies! But back to the topic at hand..)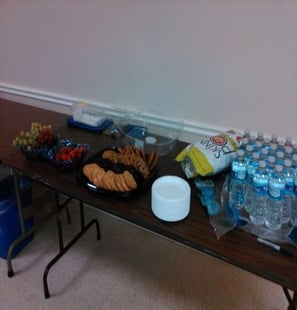 And although each workshop is different, there were a couple of recurring themes that came up over the course of the evening. The first one was about plaster and how it differs from drywall. Well, I live in Arlington myself and I encourage you to check out my blog to learn more. And second, power tools. The ladies seemed VERY interested in learning more about the drills our technicians were using.
As we discussed with some of the attendees, maybe a possible idea for the future would be to have a "How to use power tools" workshop. Would ladies find this helpful or interesting? I think so but what do you think?
Take a look at our two technicians Brandon (left) and Alex (right) pictured with me and our $250 gift certificate winner. The ladies enjoyed the banter back and forth between these two during the presentation and they definitely brought the laughs. Both are Project Managers at Moss.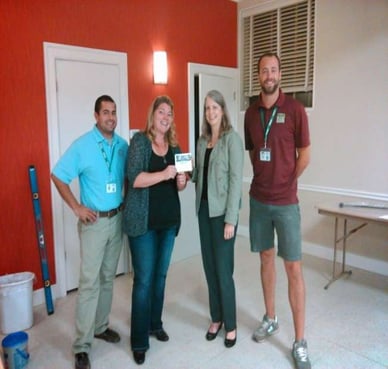 We were able to end the evening by doing a drawing for a $250 gift certificate. Congrats to Chris Sloan! All our other attendees left with a $50 coupon as a consolation prize, so luckily, no fights broke out. If this is something that sounds like a fun night out for you, please contact me at PKopiak@MossBuildingandDesign.com.
Pam Kopiak is part of Moss Building & Design's Community Relations Department. If interested in planning an Arlington HandyMOM 101 or HandyGirl 101 workshop programs contact her at PKopiak@MossBuildingandDesign.com.