By- Madeline Pillow (MPillow@MossBuildingandDesign.com)
Choosing Tile for your Home Remodel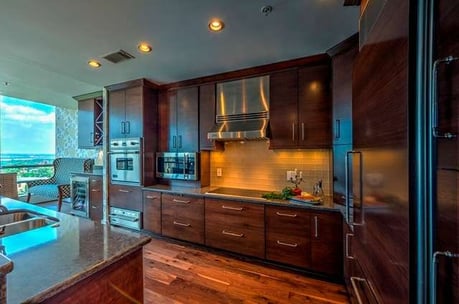 There are a number of tile layouts that can be chosen for a kitchen or bathroom remodel. What is best for your space has to do with the canvas at hand. Based on these parameters, tile choices are defined by a modern or traditional look as well as whether you are interested in creating the illusion of width or height.
At MOSS, our Customer Care Managers are an addition to the remodeling process to help you make these kinds of decisions. Whether it's to give you their expert opinion or to go with you to a vendor to look at selections, the Customer Care Manager is your advocate, giving advice on what will look best in your space, what fits your style, and what keeps you within budget.
In the Arlington, VA modified accessibility kitchen remodel seen above, one of our Customer Care Managers, Kristen Corbett, helped the homeowner choose this porcelain tile for the space.
To get a better idea of the number of tile selections, Houzz's article, "How to Choose the Right Tile Layout", is a great resource to understanding what certain layouts work for different spaces. For example, author Yanic Simard highlights where and when certain styles work, here, with the mosaic look:
---
"Mosaics are more common for accent areas (rather than full-height walls), because they require more grout. This means they can require more maintenance if exposed to heavy soil or moisture, which can be an issue in mildew-prone bathrooms. However, they can create a rich and subtle multi-tonal effect that has the appeal of luxe stone without the luxe cost, making them a popular backsplash option."
---
To read more, you can find the article on Houzz.
Kitchen and Bathroom Remodeling in Northern Virginia
MOSS helps residents in Northern Virginia make remodeling and home improvement decisions that work for their lifestyle and family. We are your advocate helping you make informed decisions during a remodel. To get started on your remodel, no matter what stage you are in, call MOSS at 703-961-7707.
Article Credit:
Houzz Article Credit attributed Yanic Simard: http://www.houzz.com/ideabooks/42700445/list/how-to-choose-the-right-tile-layout