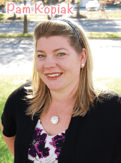 By Pam Kopiak (pkopiak@mossbuildinganddesign.com)
The best part about a snow day (or blizzard for that matter) for me is the small window of time I get away from my children, (I must love them to take them sledding for hours at a time right?) while I soak in a nice warm bath in the evening. This MOSS client in Vienna, VA made some good choices when they completed their bathroom remodel-- perfect for waiting out 30 inches of snow. A girl can dream…
No Need To Choose. Bath AND Shower.
In recent years, more and more people are opting to have both a bathtub and a shower in their bathrooms. It can make things very efficient by two people being able to bathe/shower at the same time (in the comfort of their own defined space of course) without having to brave the mess of the "kids bath" down the hall.
No Fighting - Dual Vanity and Custom Shelving.
Put the elbows down! There is no need to jostle for space when you have a dual vanity installed. Your stuff can stay in your area (which is the whole thing - am I right?) and the rest can be relegated to some hidden area. All joking aside, if you are looking for more storage, these custom cabinets above the bath are great places for storing magazines, extra towels, or other toiletries.
Please Hide The Toilet.
And lastly, the toilet. Being able to keep the toilet out of sight can make the bathroom feel more luxurious and it makes the room more efficient as more than one person can be in there at a time. The pocket door on this remodel is barely noticeable and takes up hardly any room. When the door is shut the frosted glass still allows for light to comes through, keeping the bathroom from feeling dark.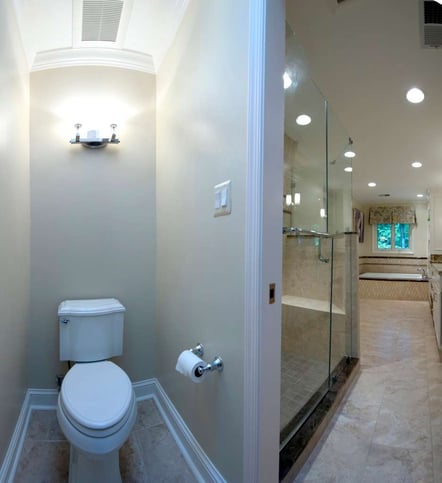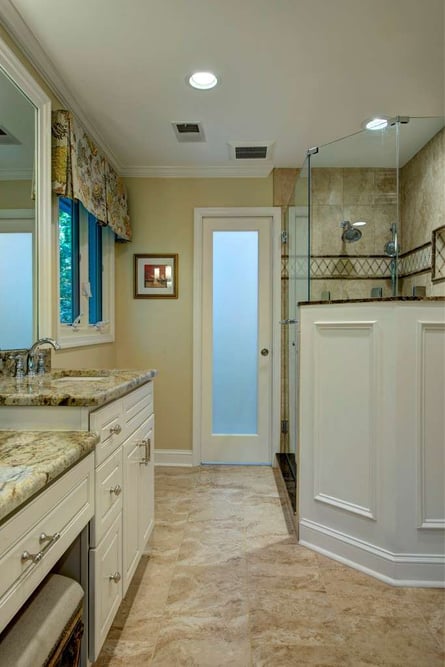 If you are looking to remodel your bathroom and just don't know where to start, the professionals at Moss Building and Design are always available to answer questions and share ideas. If you would like to discuss your remodeling plans or have general questions call MOSS at 703.961.7707 or email Sales@MossBuildingandDesign.com.