By – Jenn Zschunke (jzschunke@mossbuildinganddesign.com)
While it certainly felt like the summer was short this year, it would be hard to find a parent who wasn't a little pleased with the start of school. Northern Virginia counties are among the last to start school, and so, now that the kids are back in session and the Farmer's Almanac is predicting ANOTHER cold winter, Moss Home Services is ready and prepared to help you begin checking items off your home "to do" list .Below are some tips to start on your home maintenance.
Home Improvement Tips for Northern VA Homeowners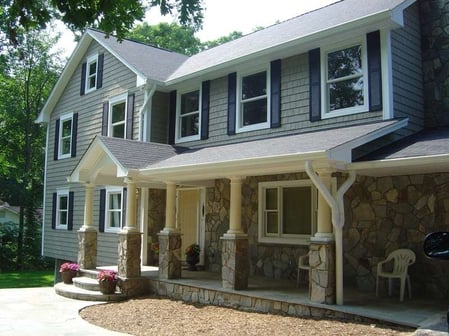 Moss Home Services suggests that you take advantage of the moderate fall temperatures and have any interior rooms painted. You do not want to paint in the winter when the windows and doors all need to be shut – and the summer can definitely be too warm. Professional painting is done quickly and can, for a reasonable price, change the entire look and feel of a room. (Extra tip: Early fall is also a good time to have your carpets cleaned!).
The beginning of fall is a great time for a professional to come out and inspect your heating system. You can't take your family's comfort over the winter for granted and having a fully checked system (coils, vents, filters, etc. all examined) can certainly put your mind at ease. Another way to make sure you never go cold this winter is to install a whole home generator.
Gutters, Roofs and Windows
Take the time to clear out your gutters in preparation for falling leaves. Have a professional inspect your roof for any leaking spots (via the roof and the attic – as well as the chimney!) and schedule repairs. Check all the storm windows and doors as well. Finally, put skylights on your list to ensure that the caulking and sealant has not dried and shrunk which is typical during the summer.
Checking these items off your list will definitely help over the winter. You can also weather proof your windows that are not storm windows – keeping you warmer and saving you money in the long haul.
Moss Home Services suggests that you clean vents and baseboard heaters throughout your home. Consider having your air ducts cleaned as the build up of dust can create an unhealthy environment for your family and any pets in the home.
Now is a great time to take advantage of your home care with the kids being back in school.
Contact the experts at Moss Home Services at 703-961-7707 for a free estimate and to learn more about our services.
Jenn Zschunke is a part of the Community Relations department. She plans HandyMom 101 workshop programs for Moss and coordinates philanthropic activities in her local community.