...Especially when you give me crap like that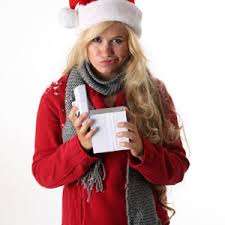 By – Jeannine Miller (jmiller@mossbuildinganddesign.com)
I know, I know, you're thinking Man, this chick is a jerk! While that may be true, I'm still going to put this out there. Think of it as my way of helping you not waste your money (You're welcome).
The 5 things I don't want for Christmas:
Perfume. Unless I tell you a specific scent I love, please do not buy me perfume. I don't care how popular Faith Hill, Brittany Spears, or Taylor Swift's perfume is at Kohl's, I will likely hate it. Trying to pick the right perfume for another person is like trying to pick out their contact lenses --- impossible.
A gift card to a store where I don't even shop. Seriously, when was the last time you saw me in Forever 21? Stick to Amazon and we'll be fine.
Used stuff. I actually had a [former] relative give me a shirt that still had wrinkles from her wearing it the day before. You know how I know she wore it the day before? I WAS WITH HER.
Clothes. You will either buy the correct size and confirm that I look like a size I'm disgusted by OR you will buy a size too small and upset me because I can't fit into it. You can't win.
Tchotchkes. There is a reason I don't have knick-knacks all over my house: I don't like them. If you buy them for me, it makes me feel bad when I put them directly into the donation pile.
Now that I've offended everyone who was considering giving me a gift this year, I'm off to buy the wrong presents for them…'Tis the Season!
And now a word from my sponsor:
For a gift sure to be appreciated, how about our Handyman For a Day deal? Eight hours of handyman service for only $499! Purchase via the Moss App or call us at 703-961-7707.
In addition to blogging about all things home and family-related, Jeannine Miller manages Moss Building & Design's Community Relations Department, which includes the popular HandyMOM 101 and HandyGirl 101 workshop programs.