Moss' Home Additions Series Continues With an Addition in Vienna, VA
Our Home Additions Series continues with a home that was a 25 year- old, colonial style with a 2 car garage prior to its addition. The homeowners contacted Moss because they wanted to maximize the existing footprint while adding space that was conducive to fit their needs through a master suite and a garage addition.
Customizing Your Addition
As mentioned in last week's blog about the versatility of additions, one of the biggest factors in deciding on an addition is making sure that it will tie in seamlessly to your existing home. This particular family wanted to ensure that their addition was cohesive with the rest of their home. In addition to a master suite, the homeowners also wanted to add closet space, a pantry, a larger garage, and a balcony off their master suite.
Before and After Pictures of the Addition in Vienna, VA
Below you can see a great before and after comparison of the home.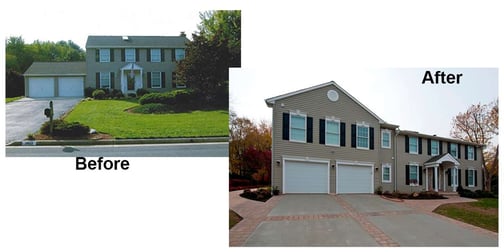 The homeowners found that one functional enhancement in particular added to the functionality and enhanced the overall appearance of their home. By increasing the size of the front stoop of the home with a larger landing and a new architectural face, the home was recognizably updated and it helped tie together the new addition and the original structure.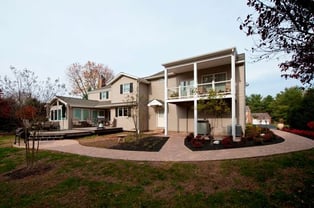 In the photo above you can see the new addition from the backyard. With the inclusion of the new balcony off of the master suite, the homeowners now have a great place to enjoy their yard and their new landscaping.
With their ideas for their addition and the design of the master suite, the homeowners had a beautiful vision and Moss Building and Design was able to make their vision a reality. As one of the homeowners surmised, they would describe their addition in one word—"Awesome!"
Moss Building & Design
Moss Building & Design is an award-winning remodeling company in Northern Virginia. We specialize in home additions, basement remodeling, and kitchen and bathroom remodels. As an established Virginia contractor, we know what it takes to transform your house into the home of your dreams. As a result of the countless requests by Moss Building & Design customers who already know and trust the Moss name, we also offer home services including plumbing, electrical, handyman, tile, roofing & siding, structural work and much more.