The Advantages of Renovating your Basement
When the time comes and you need more space, remodeling your basement is one of the first places that homeowners turn to when considering their remodeling options. If you basement is unfinished, you really are not taking advantage of all the space your home has to offer. There are several benefits to remodeling your basement.
Remodeling Your Basement is Cost Effective
Renovating your basement has the best value per square foot because the structure or footprint is already in place. The basement space is already there, so you should take advantage of that and make it functional. If you're considering remodeling your basement we have a few payment options that are provided through EnerBank. They include No Interest, No Payment options, as well as 0% Interest Options (seen below).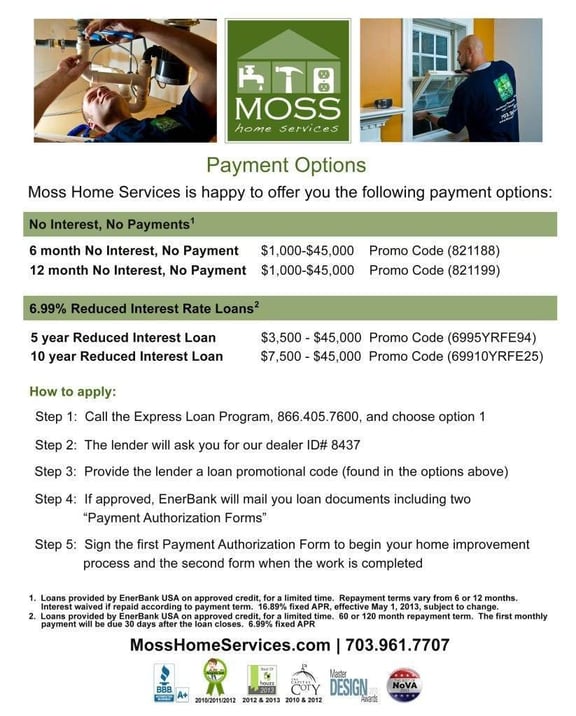 Remodeling Your Basement Can be Done Quickly and Conveniently
Remodeling your basement is not something that will interfere with your day to day life. Unlike other remodeling options, there's no roof to remove, and you can live in your home while your basement is being renovated.
Moss Building & Design has special turn-key teams that can finish your basement in 3-4 weeks. A turn-key team is a team that works on your home improvement from beginning to end. It is a team of 2-3 people who are well rounded in several crafts, and they are the same 2-3 people who are completing your home improvement. This eliminates the stress of wondering who is going to be at your home, because the same people will be there until your home improvement is completed.
Creative Basement Ideas
Finishing your basement allows room for a lot of creative flexibility. The space can be anything you need it to be, including:
In-home office
Home gym
Media room
Guest bedroom
Storage space
Play room
In-law suite
The possibilities go on and on, depending on your personal needs.
This basement remodel in Ashburn, VA, seen below, was an unfinished space that the homeowners turned into a fun space to entertain. They included a wet bar in their basement design.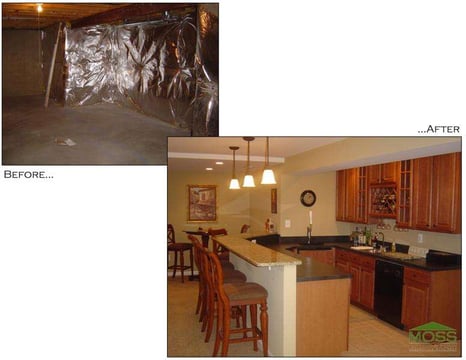 The great thing about basement remodeling is that you can combine those needs into one space. This basement renovation, seen below, in Ashburn, VA, was an unfinished space that the homeowners were using for storage. The basement remodel combined the homeowner's needs and included a wet bar, media room, guest bedroom, and in-home gym in their new finished basement. What other room of your home can you do that?!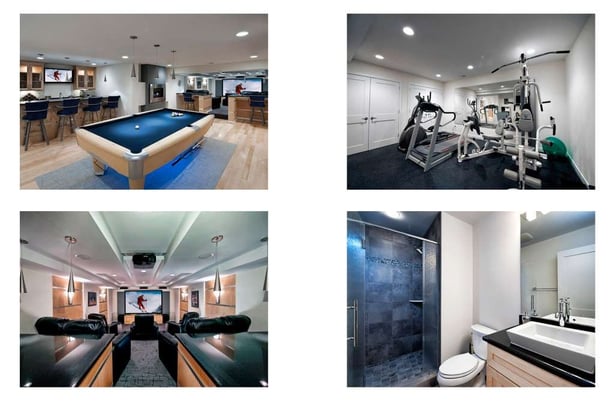 Home Improvement in Northern Virginia
If you're finding that you need a little more space, you should consider renovating your basement. It is a great way to gain more living space from your existing structure. To get started contact us at 703.961.7707 or email us at Sales@MossBuildingandDesign.com and we'll schedule a free consultation to listen to your home improvement needs and to provide you with the necessary information you need to make the right decision for you.