By Pam Kopiak (PKopiak@MossBuildingandDesign.com)
Everyone needs a little luxury in their life. But if your home is anything like mine, most of your house is about accommodating others, not how it makes you feel. The living room is for gathering with family and friends. The kitchen is for making food for the family, and in my house, it functions as homework central. The bathrooms? Let's not go there. Where is your personal space? Your master bedroom of course. If you are thinking of adding a master suite to your home, consider some additions to pamper yourself, and make it a luxurious retreat. As Tom and Donna from Parks and Recreation would say, now is the time to " Treat Yo Self."
Keep Your Master Suite Open and Bright
Making a space feel special is more than just adding some ornate furniture and calling it a day. It is also about the physical design of the room.
Consider opening up the space with tall ceilings and cutting out custom windows to maximize on natural lighting. Perhaps you could add a sitting area to read in after the kids have gone to bed. A relaxing, open place to unwind at the end of the day could do wonders for your stress levels. It's important to have a place to yourself.
Small Touches Have a Big Impact on Your Master Suite
As they say, it's all in the details. A little lighting can go a long way. Recessed lighting and dimmer switches to set the mood can make a big difference and create a certain ambiance. Even small nuances like tray ceilings can add a lot to the character of the space. You could also consider details like heated flooring. You'd never have to wake up to a cold floor again (dreams can come true). For more information on floor heating, see this article by Remodelista.
All of these details you may not have thought about when planning your master bedroom remodel, but they can go a long way in making your master suite feel like the room you've always dreamed of having.
The tray ceiling and recessed lighting in this master suite addition in Vienna, VA give the room a cozy feel.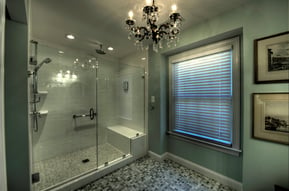 Top Your Master Suite Off with a Luxury Master Bathroom
The bathroom of your master suite can be the finishing touch it needs. I cannot get enough of the trend of chandeliers in bathrooms. They instantly add a sense of glamour to the space. This Burke, VA bathroom remodel feels open and luxurious and I could definitely see myself relaxing in that Jacuzzi. Bubble baths are the definition of luxury right? For more info on creating a luxurious master bathroom, check out our previous blog on the subject.
If you are looking for ideas on how to update your master bedroom, the professionals at
Moss Building and Design
are always available to answer questions and share ideas. If you would like to
discuss your remodeling plans
or have general questions call MOSS at 703.961.7707 or email Sales@MossBuildingandDesign.com.