Adding A Two Story Addition To Your Home With A Northern Virginia Contractor
One way to add a considerable amount of living space to your Northern Virginia home is to add a two story addition. A two story addition is completely customizable to meet your lifestyle needs.
The Benefits of a Two Story Addition
Cost efficiency- two story additions are cost efficient because you are gaining additional levels to your home for the cost of one foundation and one roof
You get additional living space with your two story addition without taking up any yard space
Two story additions work well because people will most often combine two needs at the time of the remodel. For instance they may add a master suite at the top level and expand their kitchen on the bottom level. This meets the need of having a larger kitchen and the need for a master suite.
Two Story Addition in Oakton, VA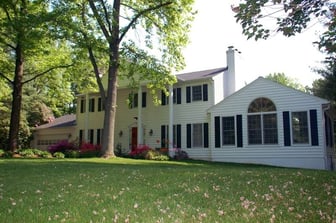 Two story additions are easily customizable and you can use the additional space to meet your individual needs.
This specific remodel was a two story addition in Oakton, VA that included a basement on the bottom level and a sunroom/family room on the upper level.
The photograph below shows you what this Northern Virginia home looked like from the back side of the home before and after the family added the two story addition:
This family in Oakton, VA used their two story addition to meet two separate needs: the need for a sunroom/family area and for a basement for their children to use to entertain friends which also included a media room. Here's a look inside this two story addition: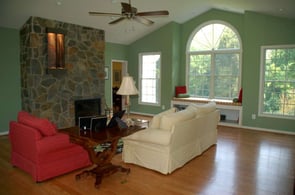 The photo below is of a Northern Virginia home remodel that was a two story addition that included a larger kitchen and additional living space. There is never a right or wrong answer in how you want to use your new additional space!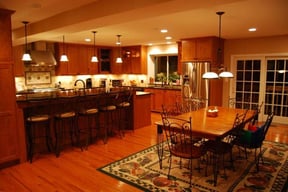 The end result of this remodel was a customized new living space that the homeowners designed and helped create to meet their day to day needs!
Northern Virginia Contractors
Whether you want a bigger kitchen and additional living space, or a basement and master suite a two story addition could be your way to go and Moss Building & Design is here to help every step of the way! For a free estimate please call us at 703.961.7707. We specialize in home additions, basement remodeling, and Kitchen & Bath remodels. As an established Virginia contractor we know what it takes to transform your house into the home of your dreams. As a result of the countless requests by Moss Building & Design customers who already know and trust the Moss name, we also offer home services including plumbing, electrical, handyman, tile, roofing & siding, structural work and much more.