There's nothing like having an outdoor escape. Whether it's a place to kick back and relax or get together with friends and family, the key is finding patio furniture that is right for you. Read on for absolute patio essentials and patio furniture that will turn your outdoor space into a place you'll never want to leave.
For Grilling Gurus
The recipe for a great patio -- of course-- includes a grill. Whether it is a portable charcoal grill, or a complete custom-built outdoor kitchen, the marinated chicken is waiting. You can find a variety of grills to choose from at Lowe's to make sure your patio is fully equipped.
MOSS Service Manager /grilling guru Greg Gardner, recommends Weber grills. "It's the best brand you can buy. I personally have a Char-broil, which is a quality, less expensive option." If you want to step your game up a notch, look at one of Weber's Grill Centers.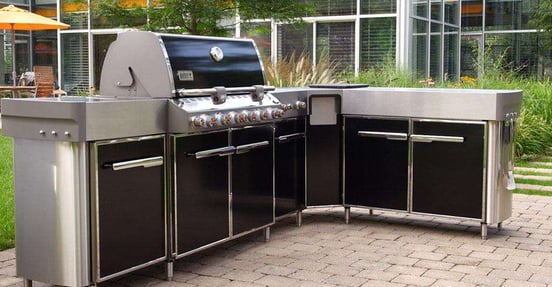 Outdoor Dining
When deciding what patio furniture you should choose, keep in mind what function your patio will serve. Will it be a party place for large groups and weekly BBQ's? Will it be a relaxing place to read on the weekend? Keep how you want to use your patio in mind when selecting furniture like patio tables.
For the DIY addict, and entertaining guru, try this patio table with built-in drink coolers. This table is perfect when cold drinks are a must, and it doubles as a conversation piece-- See how to build this patio table on our Pinterest board 'Spring Inspiration.'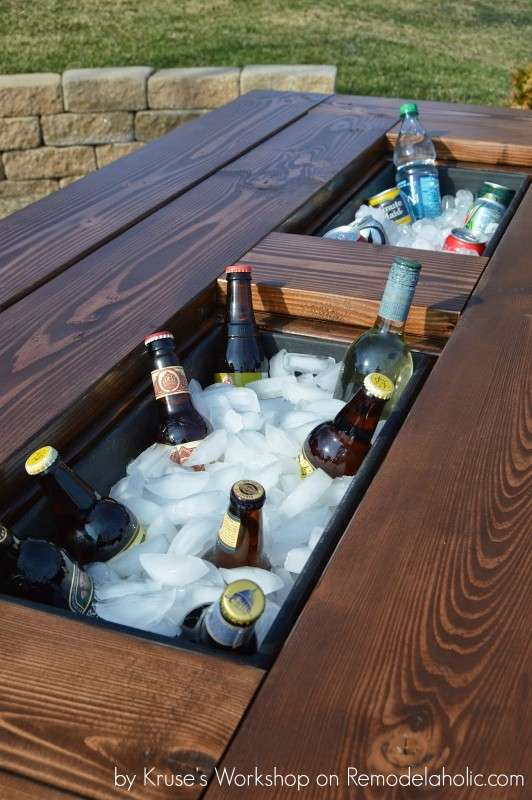 Patio table with built in coolers courtesy of Remodelaholic.com
Patio Sets Galore
If you are looking to completely replace your outdoor furniture, consider buying a patio furniture set. Camille DeLew of Another Eye Design recommends a few different brands depending on your budget. For high end patio furniture: Frontgate, Williams Sonoma Home, Offenbachers (actual store in Fairfax VA), and Home Escapes. For medium priced patio furniture: Pottery Barn, Grandin Road, Pier I Imports, Home Decorator's Collection, and Costco. For low cost patio furniture: Lowes, Home Depot, Target, and Overstock.com.
"I tend to buy higher end pieces for the furniture that you sit or lounge on, but if the customer has a tight budget I will buy from the medium and lower priced stores for accent tables, accessories, planters, etc." If you are just looking for accent pieces or a small space set, see the patio furniture ideas on Lowe's! They have patio ideas for all types of seating.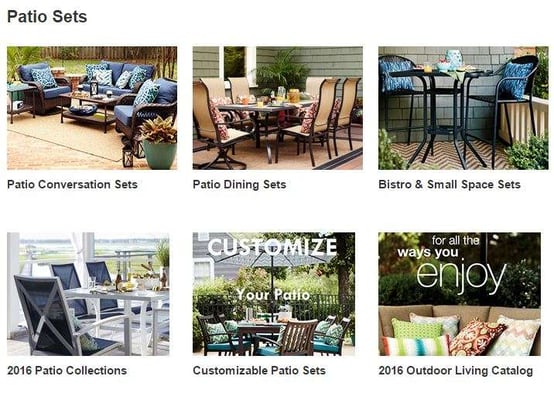 Patio Accents
Your outdoor space doesn't have to be all about entertaining-- maybe relaxation is key for you. Go for comfort by choosing accent pieces for your patio. These could be matching Adirondack chairs, hammocks, daybeds, sun-bathing lounge chairs or other individual pieces to make your patio feel homey. Whether you go for funky, multi-purpose or luxurious pieces, keep your patio as a place to unwind with comfortable seating.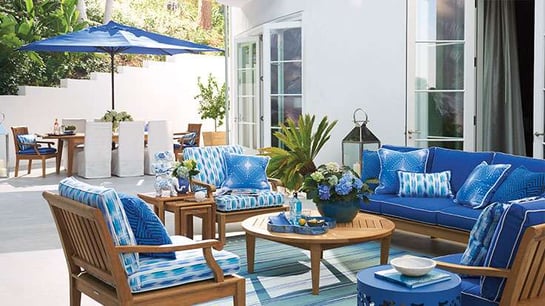 To really give your patio some ambiance, arrange your furniture around a fire pit and enjoy your patio well into the evening. For more fire pit ideas, check out this article from HGTV--Firepit Design Ideas.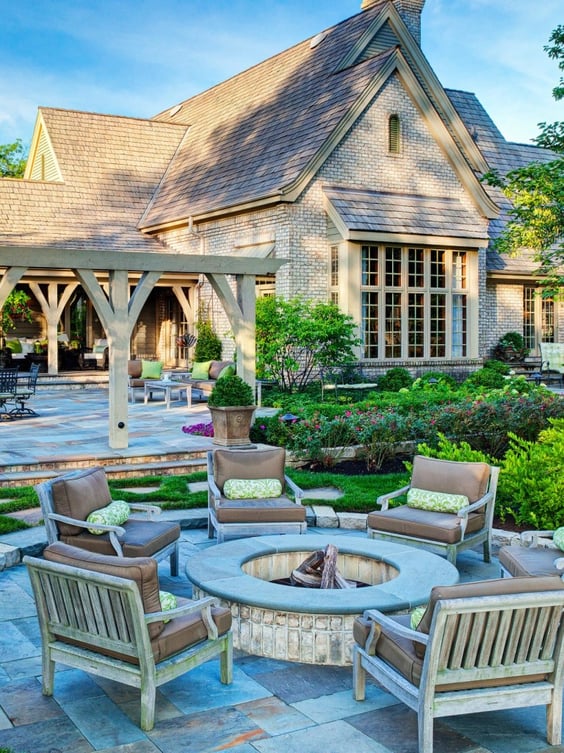 If you are looking to update your patio or other outside space, contact MOSS to talk about your project.
Give us a Call: 703.961.7707
Send us an email: Sales@MossBuildingandDesign.com
Get Inspired: Portfolio