Through our Home Additions Series, we have discussed several different kinds of additions from bump-outs to over garage additions. We have also taken a more in-depth look at additions in Northern VA that Moss Building & Design has completed.
Even before work begins and before you choose a contractor, considering an addition is a large endeavor because of the impact it will have on your existing home. No matter where you find yourself in the process, we've put together a small list with tips that are helpful before and during your home addition process. We're going to share Part I of these tips now, then after the holidays, we will share Part II.
Your Home Addition Should Complement your Existing Home
When a house is built, everything from the flow of the home to the number of windows creates a personality and style. When considering an addition, you want to keep this original plan in mind. Rather than "one-upping" the existing portion of your home, make sure that the two will coexist as if it was part of the the original design.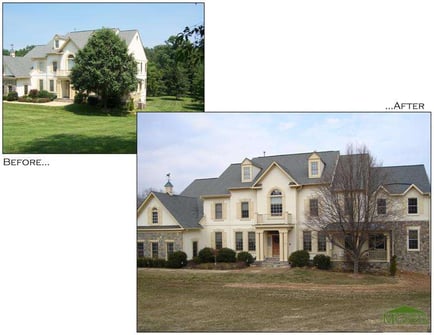 As pictured above, this three story addition in Great Falls, VA incorporates the addition so well into the existing structure that the before picture looks unfinished without it. This effect comes from the matching color scheme and from the incorporation of the stone on the addition which matches the left side of the original structure.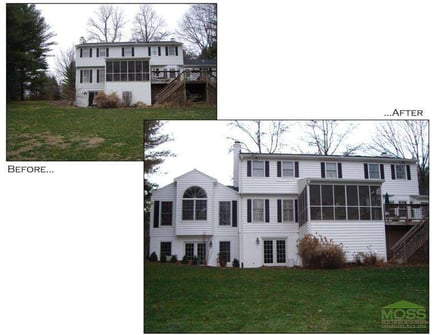 Another example is an addition in Oakton, VA that is pictured above. The white color scheme is transferred to the addition which helps with the consistency of the home. As well the shutters, though a little bigger on the addition, are the same shape which both blends the addition in with the home and gives an interesting variation. It is also in the use of another set of french doors that gives the whole structure a uniformity.
A Home Addition Will Change the Layout of your Home
An addition will naturally change how you operate in your home. In your existing home, it is natural for a homeowner to get used to the flow of your home and how each room functions. Depending on the type of addition you choose, certain rooms and nooks will take on different functions. Furniture may not work in certain areas and specifically, in a master suite, things like your clothes hamper might change position.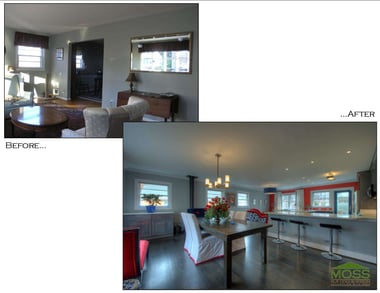 In this Arlington, VA remodel pictured above, the space drastically changed with the removal of the interior wall. With this remodel, the homeowners were given a more open space which did change how they initially had their furniture set up. In the after picture, we see that the space became more open and included a kitchen and dining area with living space on the outskirts of the room.
An addition will definitely give your home a makeover. We hope our tips have given you some things to consider. If you have any of your own tips please share them with us! As well, make sure to check back in with us after the holidays for Part II for some more home addition tips.
Moss Building & Design
Moss Building & Design is an award-winning remodeling company in Northern Virginia. We specialize in home additions, basement remodeling, and kitchen and bathroom remodels. As an established Virginia contractor, we know what it takes to transform your house into the home of your dreams. As a result of the countless requests by Moss Building & Design customers who already know and trust the Moss name, we also offer home services including plumbing, electrical, handyman, tile, roofing & siding, structural work and much more. If you have any questions about our remodeling process or would like a free estimate, please call us at 703.961.7707.