In December, we started off with Part I of addition tips for homeowners. Whether you are considering an addition or whether you are currently going through the remodeling process, there are always changes that come with an addition that should be considered.
Consider How Landscaping Will Change With Your Addition
This tip applies to any homeowner in the home addition process. For anyone who has a green thumb, the yard and its possibilities rely on space and sunlight. Certain plants need more or less sun. With flowers there are certain restrictions between annuals and perennials. Similarly with trees, there needs to be some forethought to consider how much room a tree will grow into and how it its branches will expand.
With an addition, depending on the type, you may lose some yard space and/or plants that are currently in your yard. Once the addition is in place, your yard footprint may be completely changed. This is when you'll have to consider your options based on space and sunlight.
As well you might consider creating areas of definition by creating focus with an arbor or creating a sitting area.
In this Vienna, VA addition seen below, the landscaping changed dramatically in the backyard with a wrap-around walkway that leads from the front yard into the back deck. The walkway adds balance to the house and lends definition through the circular movement of the walkway that draws the eye. The homeowners planted new trees into order to fill out the space.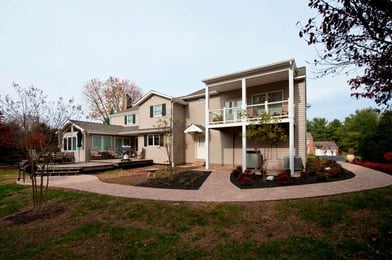 Consider How Lighting and Décor of Your Home Will Change
With an addition, you also have to think about how lighting inside might change because this will affect the decisions you make in design and furniture choices.
With a lot of interior light, you want to make sure that there is definition in the room in your décor. In a darker space, you will want to lighten up the space with lighter shades.
In this home addition in Oakton, VA shown below, the kitchen was opened up into the dining and living room which gave more light to the space. The homeowners chose lighter cabinets and a warm, yellow wall color. This wall color adds definition to the space as well as the multi-grain color of the floor.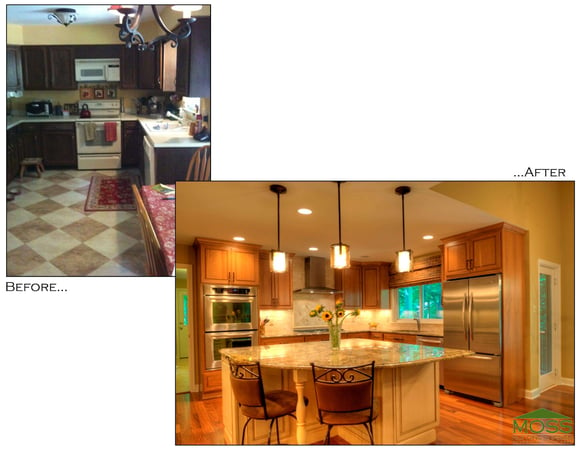 With any level of home remodeling there will be steps that you can foresee and plan for. An addition will change the functionality of your house and also how you and your family work in the space.
We hope these tips gave you new ways to think about a home addition and check back in with us every week for new blogs ranging from additions to kitchen remodels!
Moss Building & Design
Moss Building & Design is an award-winning remodeling company in Northern Virginia. We specialize in home additions, basement remodeling, and kitchen and bathroom remodels. As an established Northern Virginia contractor, we know what it takes to transform your house into the home of your dreams. As a result of the countless requests by Moss Building & Design customers who already know and trust the Moss name, we also offer home services including plumbing, electrical, handyman, tile, roofing & siding, structural work and much more.