by Pam Kopiak (PKopiak@mossbuildinganddesign.com)
The HandyGirls that is. Why should they join us for one of our HandyGirl 101 workshops? There are plenty of reasons with the most important one being – they always have a lot of fun!
This past Monday, Moss Building & Design traveled to Arlington, VA to meet with Glebe Elementary School's 5th grade Girl Scout Troop #5200. It was a BIG troop with a lot of energy! We were prepared to help get some of the energy used up in a fun, yet productive, way.
The girls learned new skills – how to spread Speed-Set with a trowel, how to cut tile with a tile cutter,and how to spread grout with a floater. And also very importantly – how to clean up their work with a sponge! I tell you, I think sponges are underrated. In this workshop, the sponge might just be the star of the show. Man--can these girls make a mess – in a good way of course!
The girls enjoyed taking the tile they learned to cut and then decorated it as we waited for the Speed-Set to work its magic. I honestly think this might be the biggest hit of the workshop -- the breather as the girls spent some quality time with their friends while making an art project.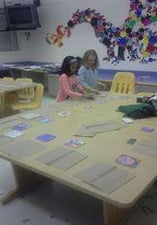 After the fun of decorating the cut tiles, we finished our project by grouting the trivet, and moved on to what the girls are really here for--the awarding of the patch. Isn't that what all girl scout troops are looking for? We gathered the girls in a circle and one by one we called them up for their patches and asked them what they most enjoyed during the evening. As I said before, many of the girls love cutting tiles but some of them just enjoy learning skills that they have seen on those TV shows their parents watch (or are obsessed with as one girl said during the evening – no names) on channels such as HGTV or DIY Network. Each girl gets something different out of the workshop and I love that.
But it's not just the girls that get something from the workshop. Each girl brings home a folder with a $50 Moss Home Services gift certificate and ONE lucky parent wins a $250 gift certificate to Moss Home Services, to be used however they like. So gather that list of unfinished home improvements, ladies and let us know if you have a Girl Scout Troop that might be interested in hosting one of our HandyGirl 101 workshops, you never know, you could be the big winner.
Pam Kopiak is part of Moss Building & Design's Community Relations Department. If interested in planning an Arlington HandyMOM 101 or HandyGirl 101 workshop programs contact her at PKopiak@MossBuildingandDesign.com.