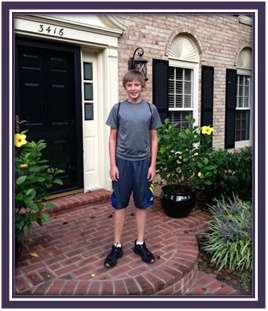 And how can I make it stop?

By – Jeannine Miller (jmiller@mossbuildinganddesign.com)
It's finally back to school this week in Fairfax County. As I've read Facebook posts of friends whose kids started before mine, I've found myself chuckling at the sentimental remarks about how sad they were that summer break is over and how much they'll miss their kids. I've always been more of a "It's the most wonderful time of the year…" kind of mom. Until this morning.
Today was the first day of middle school for my first-born. He woke himself up using the alarm on the phone he just got for his 12th birthday, grabbed a shower and made his own breakfast. He realized he didn't know where his schedule was and finally found it all shrunk up in his pants pocket, as it had gone through the washer and dryer. He said it was no big deal, he'd just get another copy once he got to school. Then it was off to the bus only to realize it had already come and gone without him. All of this, he took in stride (he certainly didn't get that from me). As I drove him to school, his maturity hit me like a ton of bricks. Watching him walk up to the crowd of unknown kids waiting to go inside this big new school, I couldn't stop myself from tearing up at the thought that my little boy was gone and how much I'll miss him.
Good thing I still have several years of elementary school left with these two nut jobs:
And now a word from my sponsor: As your family ages and you find your space needs change, call the experts at Moss Building & Design. We will consult with you and help you explore the many possibilities for updating your home. Call 703-961-7707 to schedule an appointment for a free estimate.
In addition to blogging about all things home and family-related, Jeannine Miller manages Moss Building & Design's HandyMOM 101 workshop program and coordinates Moss' philanthropic efforts in the community.