Bios: MOSS' Founders
Justin Schopp
Co-owner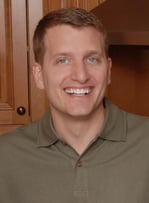 Justin brings to MOSS and its customers an impressive track record and proven business skills from his many years of managing corporate IT initiatives for both small and multi-billion-dollar companies. For his kitchen, bath and basement projects, as well as his general management responsibilities at MOSS, Justin applies discipline and vision from his strong technical business background. The carryover qualities that Justin believes in and demonstrates daily are: the importance of managing information accurately, communicating effectively, and defining customers' needs precisely. He also knows that beyond effectively managing production, customer service and a personal touch should never be taken out of the equation.
Another benefit of Justin's lifelong interest in technology is his continual evaluation of its use for MOSS staff and customers. Breaking out of the "this is the way we've always done it" mentality of others in the remodeling industry, Justin makes sure that MOSS uses technology to enhance communication with clients and to manage projects effectively.
"Customers know we're different the first time they meet with us. Our approach to work and the values we demonstrate every day break the stereotype of the typical contractor." And Justin can't help adding, "I constantly keep my eyes open for a better way to use technology at MOSS to help projects run even more smoothly. We'll implement just about anything that gives clients better access to us or more educational information about remodeling."

Pete Hampel
Co-owner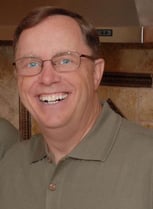 Pete's prior life as a corporate executive and his MBA education serve as a solid foundation for his effective management skills and his strategic vision. But it was his dad Moss who gave Pete the inspiration he needed to make the move into home remodeling. With Pete, it's personal, and he gives his customers' projects the same care that he and his dad gave the early projects they did together.
Always looking forward as well as back, Pete went after and was awarded "green" certification by NARI, the remodeling industry's governing body. Also responsible for general management at MOSS, direct sales, project management, staffing, and sub-contractor management, Pete has been an owner and operator in the home improvement industry for over 10 years. He has directly managed the completion of over 500 home improvement projects and has successfully performed in all functions of the home improvement project life cycle. Completed projects range from small porches and decks to 3,000 square foot additions from the ground up.
As Pete explains it, "Corporate America had its own rewards, but nothing compares to sitting across the kitchen table from a customer, helping make the dream of a 'new' home come true. That's what's real and that's why we do what we do."
Jason Hampel
Co-owner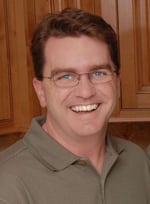 Jason uses his extensive business background to continually improve the way MOSS works, internally and externally. He is responsible for strategy and planning, along with general management. And if you're in the market for an addition, Jason may well be the one to meet with you to understand your needs then oversee your project from design through construction.
In his 15 years of business experience, at companies including Cargill, Mobil Oil and ExxonMobil, Jason honed his skills in project management, operations, and customer-focused planning. His integrity and reliability didn't need honing.
"I know from my corporate experience that running a business is about efficiency, performance and results," Jason says. "But I've learned that compassion and empathy are just as important. Our mantra at MOSS is "your quality of life is as important as the quality of our work." Every referral from a past client signifies to me that we are "successful," and that's the best business metric you can have."
Bringing business savvy into the world of remodeling makes Jason that rare individual who values every customer, takes pride in being accountable, and makes sure that MOSS projects are run at the highest professional standards.
Paul R. DesRoches II
Chief Operating Officer
Paul's unique perspective and approach regarding customer service comes from his over 10 years management consulting for fortune 500 companies, as well as his Harvard MBA education. Prior to his position as Chief Operating Officer, Paul worked 8 years at the College Board in Reston, most recently as Senior Director. Paul grew up experiencing all aspects of the remodeling industry. His passion for the field roots from the rewarding feeling that someone's life has been changed due to the enhancement of their home.
Paul is a firm believer in the fact that, in order for one's ideas and visions to be valuable, those ideas must be executed. Paul plans on using his education and experience to implement and execute new solutions, beneficial to both the company and our customers.
Paul's "customer-first" and value-driven attitude brings more insight to an already promising team. He places great emphasis on giving clients the best value possible. Paul ensures, "I want to put my efforts towards customer-focused processes that will reduce our cost so that we can broaden our service while adding more value to the customers."