Careers with MOSS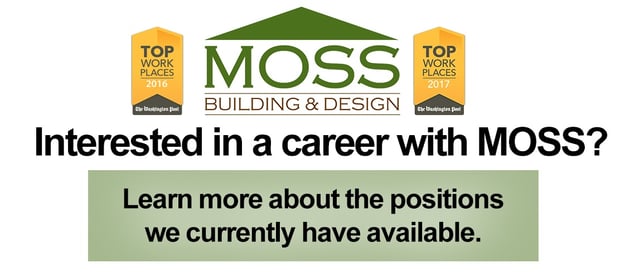 MOSS Voted Top Work Places For Second Consecutive Year by The Washington Post
We are honored to announce that we have been voted one of the top work places for the second year in a row! This is the fourth year that The Washington Post has put out the annual Top Workplaces Report. The Post partners with the survey firm, Workplace Dynamics, to find the Top Places to Work in DC. According to the Washington Post, the surveys focused on factors on quality of leadership, pay and benefit practices, and work-life balance issues.Our CEO, Jason Hampel, says that he is once again very proud of his employees for earning this high achievement.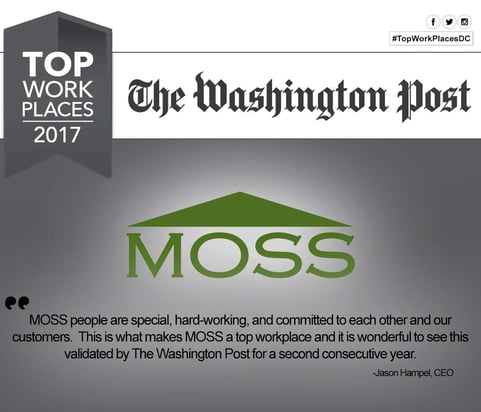 MOSS Voted Top Workplaces by the Washington Post
We are happy to announce that we have been voted one of the Top Workplaces by the Washington Post in their annual 'Top Workplaces' survey. MOSS was voted 2nd in the Small Business Category out of over 300+ companies. The surveys asked employees about quality of leadership, pay and benefit practices, and work-life balance issues. We take pride in this achievement and thank our employees for making it possible for us to earn this award. Read more about Moss Building and Design as one of the Top Workplaces, the only remodeling company in the top 3.

Why Work For MOSS?
Thank you for your interest in joining the MOSS team. Moss Building & Design is proud to be a remodeling and home services company with award-winning customer service. We have been servicing the Northern Virginia area since 2001. We specialize in remodeling additions, kitchens, bathrooms and basements. Our Moss Home Services division offers handyman, plumbing, electrical, roofing and siding, structural work, and much more. Our people are what make our company so unique and successful. Our employees strive to make every experience with every customer special. With our personal touch and attention to detail we have won the several customer-based service awards. We are consistently looking for people who are high performers with a customer-focused attitude that aligns with our values. Learn more about the positions we currently have available.
MOSS Mission Statement
Our mission is to build lifetime relationships with customers by being a unique and trusted source for quality home improvements. We build these relationships by being transparent, understanding, consistently adding value and by offering competitive pricing.
Your Career With MOSS
It's not simply about finding a job. It's about finding a culture and environment that you can flourish and grow in. We provide the right environment for our employees to learn and grow within the company. If you are a high-performer with a great customer-focused attitude we'd like you to consider a career with MOSS!