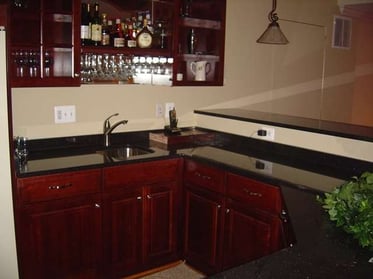 By – Jenn Zschunke (jzschunke@mossbuildinganddesign.com)
When considering a basement remodel, many of our Northern Virginia clients have a basic list of needs that they decide on – most importantly, though, they have to decide on the functionality of the basement. Whether that includes a media room or a playroom, a gaming area or an extra bedroom, there are more choices than you can imagine. One of the more popular ways that our clients individualize their basements is by adding a wet bar – turning a basement remodel up a few notches and creating a fun space for family and friends to both gather and play. The designs of basement bars these days are countless and can be individually unique.
Basement Ideas: Why Limit Your Entertainment?
By adding a wet bar to your basement remodel, you can guarantee that your guests are fully entertained. As seen in the photo below from a basement remodel in Sterling, VA, the bar not only includes a countertop and plenty of storage, but a full refrigerator and microwave, thus allowing guests to enjoy an afternoon or evening with plenty of food and drink.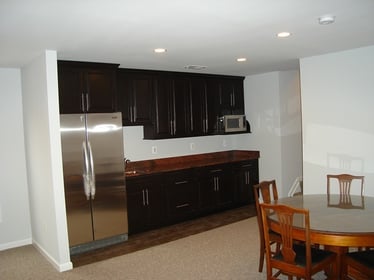 Take a Seat in Your Basement
The photo below shows a wet bar from a basement remodel in Ashburn, VA. As you can see, the client chose to add a high top level counter and bar chairs to create a feel of a real bar. This adds an element of fun design and gives guests a chance to relax and enjoy what their host might be mixing and serving.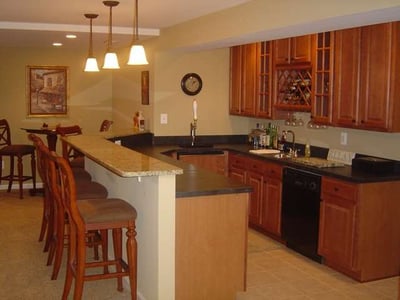 Using Additional Space in Your Northern VA Basement
Sometimes in basement remodels, our clients find that there is an area of unused space. This can be easily filled with a wet bar, creating a unique corner area that draws guests in. This basement remodel in Oakton, VA, seen below, creates a special touch in this basement space and though there is a bulkhead over top the space, an interesting ceiling helps make the space useful.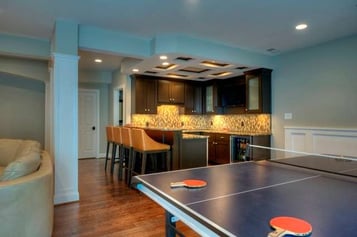 There are countless options for basement remodels and the specifics that you can choose for them. Adding a wet bar ups the "aahh" factor and creates an even more fun entertaining space for you and your guests.
Contact the experts at Moss Home Services at 703-961-7707 for a free estimate and to learn more about our services.
Jenn Zschunke is a part of the Community Relations department. She plans HandyMom 101 workshop programs for Moss and coordinates philanthropic activities in her local community.