Basement Remodeling in Northern VA

By-Madeline Pillow (MPillow@MossBuildingandDesign.com)
The basement is a room that can house a number of possibilities and functions. Often it becomes a great family space or home theater. But, it can also act as an additional bedroom for overnight guests or the space can be turned into an in-law suite. Its versatility can serve your family well throughout the years.
A basement bedroom is a great idea especially if you have an additional, unused room in your basement.
To get started, we've but together some ideas.
Basement Refinishing
The space that you have dedicated for the bedroom first needs the addition of insulation. Not only should insulation be installed in the walls but also in the ceiling. If you know that the bedroom will be used often, consider splurging by putting in resilient channels that can offset any noise or vibrations from the upstairs floors.
For Northern VA, most counties require the addition of an egress window in order for the room to be considered a "legitimate" bedroom. So double-check with your county codes. An egress window will not only increase resale value but also provides a precautionary escape route for your home.
Basement Bedroom Design in Northern VA
In configuring the space, consider that interior walls will give off more heat than exterior walls, so bed placement would be better suited to an interior wall. If you are constricted on this decision, move the bed to the exterior wall and through wall installation, you will be just as comfortable.
As more and more homeowners are realizing that their basement can be integrated into the rest of their home design, consider what design you would bring to the basement area.
For design interest in this space, exposed beams can add charm as long as the surrounding ceiling is sealed up with drywall. For dramatic interest, you can increase the height of the basement ceiling by drywalling around existing low beams. The ceiling can then be cut into to create a tray ceiling (great location is right over the bed).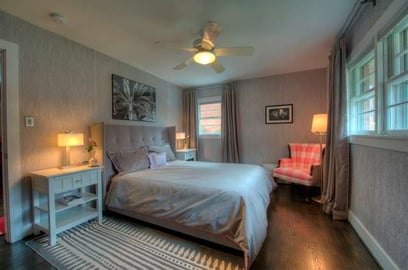 For options in paint and lighting, you are not confined to choosing only warm colors to make the space feel inviting. If your natural light is low, using a light shade of paint will help offset this. You can venture into color families such as gray, taupe, or beige to get the same effect. A gray scheme was used in this basement bedroom remodel in Arlington, VA seen above .
To make sure the space isn't too dark, depending on your natural light, be sure to install more recessed lights, sconces, furniture lights, and ceiling fixtures to have a range of lighting from task to accent.
For the flooring in this space, it depends on your house due to humidity and water issues. Carpet as an option will add warmth so see if this is a possibility at least for the bedroom portion of the basement.
Finish Your Basement with Top Northern Virginia Contractor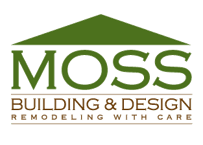 At MOSS, our consultative approach takes you from your initial ideas all the way to completion of the smaller details.
To get more ideas about our basements, check out our portfolio. To get started with your plans, contact us to set up a phone consultation with MOSS' Inside Guide or have one of our experts come to your home for a free in-home estimate at 703-961-7707.