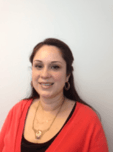 By: Zaiba Hasan (ZHasan@MossBuildingandDesign.com)
5 MUST-HAVES in your Northern VA Basement Remodel
As the morning air becomes crisp and the days become shorter, "winter is coming," is ominously whispered all over town! As much as I love the cozy fireplace cuddles and yummy holiday food (I promise I'll start that diet in the new year), I do not look forward to the rambunctious unspent energy that playing indoors brings. Remember I have four amazingly active and crazy energetic children, (insert eye roll emoticon here). If you have ever thought of remodeling your basement in Northern VA, NOW is the time to get on that!
As you know winter is indeed coming.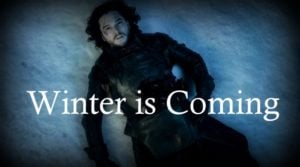 Here are the 5 must-haves you need in your basement remodel:
1. Add a play space to your basement
Nothing says, "GET IN THE BASEMENT" better than providing a fun, imaginative place for the children to be banished to, I mean sent to, than an oasis of imagination and creativity. Having a designated area for "play" allows both the child and the parent an opportunity to retain their sanity during the long cold months ahead. This basement remodel in Centreville, VA has the right idea!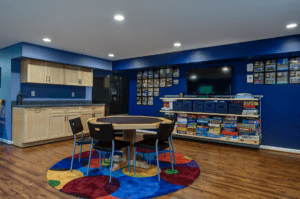 2. Incorporate an entertainment area in your basement remodel
Part of the fun of "snow days" (I know shouldn't even jinx ourselves here) is curling up with the kids and watching a movie together. OR better said, send my children down to the basement to watch a movie while I crawl under my covers to read my book. Trust me, we will likely have plenty more snow days ahead. This basement remodel is the ideal entertainment room with the large tv and super comfortable couches!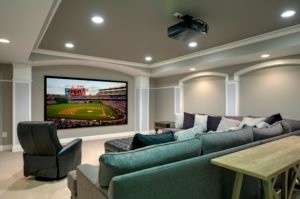 3. You absolutely need to remodel your basement with a wet bar
At any point during the week, I am blessed to have anywhere from 4-8 children at a time coming in/out of my house. Along with having those 4-8 children in my house comes feeding said children. Being able to sit them down AWAY from our normal eating space allows me to maintain that "kid-mess," into a designated area. Bonus points if your bar space can become the focal point of your entire basement. Plus, I'm not complaining about having a bar in my basement. This basement remodel pictured below is perfect for entertaining company for all types!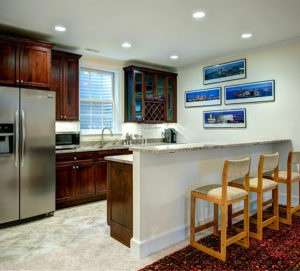 4. Crafty basement ideas
Shhhh, secret. I HATE all things crafty and creative. Partly because I have no place to store everything and the clean-up factor can be a huge deterrent for me. However, having a craft space in the basement can be exactly what my family needs. Mess-confined, kids still able to let their creative juices flow, and most importantly my sanity is preserved! This basement remodel is spacious enough for the kids and their messy imaginations!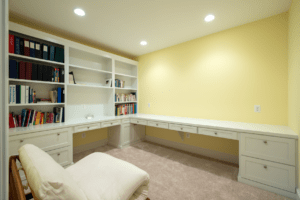 5. Add an in-home gym to your basement
You know the ancient Chinese proverb, "The family who works-out together, stays together." No? Well maybe I might've misheard that one. In all seriousness in order to round-out the "ideal" basement, having a gym area is a great way to battle the winter blues and those holiday pounds that inevitably creep up EVERY year!! I for one know that my daughter LOVES to lead her brothers in a mini-baby boot camp every Sunday morning, while I work out alongside them. It is unconventional family time, but we will take it!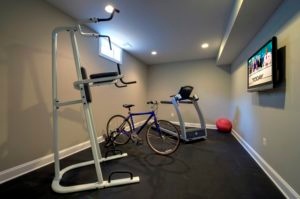 Basement Remodelers in Northern Virginia
Finishing your basement is a great way to add value to your home and offer additional space. Are you inspired now?! Ready to remodel your basement? MOSS can help you achieve a basement remodel that fits your individual needs and exceeds your design expectations.
A MOSS Professional would love to speak with you about your project. Call us at 703.961.7707 or email Sales@MossBuildingandDesign.com if you have general questions or if you would like to discuss your remodeling plans.
Until Next Time,
Z