Making the Most of a Basement Renovation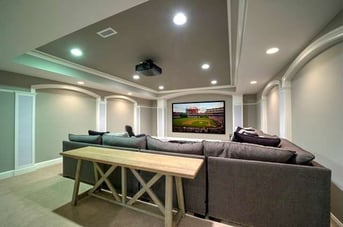 Basements are the one room in the house that get the least amount of attention. They have middle child syndrome –bad. They get stuck storing items that can't fit elsewhere. They watch as the kitchen gets upgraded with dove-tail drawers and the master bath gets a facelift by expanding the shower and dropping the deadweight tub. And they grind their teeth and fester in their irritation.
The first step is to admit the neglect, but to also embrace the good qualities of your basement. Even if you don't want to make your basement the glitziest one on the block, every basement has one facet that no other room in your home can boast—its versatility.
Basements can easily fit whatever use is most pertinent to your family which means they can easily grow with you over time. Whether you need a media room now or think this will be an option in the future—make sure your basement has the right structure to grow with you.
Giving your Northern VA Basement "Good Bones"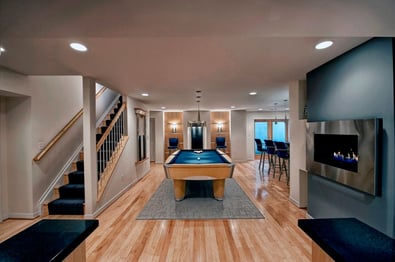 And no, we're not talking about anything Halloween-related. As they say, you want your home to have good bones (i.e. structure) but why not also make sure each room, especially your basement, is structured for success? No matter the purpose you need your basement to serve, one good rule of thumb is to act as if your basement is like any other room in your house--at least in terms of design. And it doesn't take much. You can parallel the décor in the rest of your home to your basement just by bringing in some small detailing.
Wainscoting
This addition will definitely make your Northern VA basement feel similar to the rest of your home. It creates dimension in your space and can designate different spaces in your basement. With tall wainscoting, you can also save your drywall from extra damage. See the wainscoting in this Oakton, VA basement remodel below.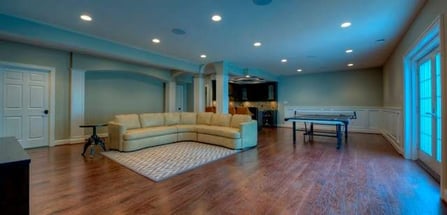 Built-ins
Built-ins can make unused space into storage for books and other knick-knacks. You can also consider this as a way to make a small mudroom to store coats and boots. If this is positioned near the stairway, you can save space in your design as there is often unused wall space near a stairwell.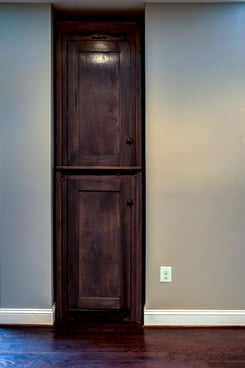 Stairway
Make sure your stairway is easy to maneuver down. Making sure the steps are appropriately spaced out will help prevent falling accidents especially if the laundry room is in the basement and you will be carrying baskets up and down the stairs or is the space is dark.
Utility aside, a new stairway can make the basement entrance feel like part of the home especially with the use of natural wood.
Furniture
Furnishings are a great way to warm up the basement space instead of letting it become a dark room. Leather is a material that gives a warm depth and a sophisticated personality.Large sectional couches are also great pieces for family gatherings and providing enough seating for movie night or having friends over. Sectionals will help define seating spaces whether or not you keep your sectional all in one piece or divide it.
Best Basement Remodeler in Northern VA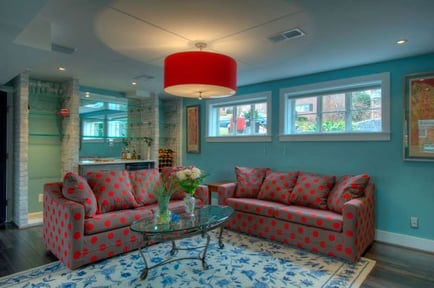 Follow along with our blog! In the coming weeks, we will share more tips for your basement remodel to help make sure it can grow with you throughout the years.
Remodeling at Moss is a collaborative process that allows our clients to find the right design for their budget and home. This collaborative process ensures that your needs are met and the basement you are looking for becomes the end product you receive.
Moss Building & Design and Moss Home Services is a family-owned company that can understand your remodeling ideas and bring them to life. Your basement is just a few steps away with our turnkey approach to basement projects. We also offer payment options for projects up to $45,000 that could be used towards your next basement remodel. Call us at 703.961.7707 or email us at Sales@MossBuildingandDesign.com and we'll get you started on your home improvement.