By – Jenn Zschunke (jzschunke@mossbuildinganddesign.com)
Did you know that there are over 600,000 contractors in the US? That is an astoundingly high number – and makes the idea of possibly starting a basement remodel, a bit overwhelming. Where to start? How to choose a contractor? Fortunately, Moss has been consistently rated in the top 100 contractors in the entire country; guaranteeing that our clients receive top notch service and quality remodeling. What sets us apart, besides our commitment to quality, are our unique remodeling processes. For those just considering a remodel, our experts provide more detail:
What is the process when we start with Moss ? From start to finish, how much time does it take to remodel a basement? Will there be someone to help us make selections?
Moss offers a free estimate and design. When you call Moss, our Customer Care Managers will schedule an appointment for you with a Sales Consultant. At this meeting, the Sales Consultant will listen and understand your needs and the goals you have for the space. After this meeting, you will receive a proposal that covers all aspects of your basement remodel, including the work we will do, a design layout, and the final price.
When Moss begins remodeling your basement, the typical start to finish time is, on average, 6 weeks. A great aspect of Moss is the team that will surround you throughout the project.
Your Sales Consultant, who is your first contact, meets with you to get a sense of your needs and how best to serve you and the space. From here branches the rest of your project team: your Customer Care Manager, Project Manager, and turn-key team. Your Customer Care Manager can help you with questions about selections and be available to go with you to pick out flooring or lighting. Your Project Manager will communicate clearly and efficiently throughout the whole process and be there to answer any questions you may have about your home remodel.
The turn-key team is a unique aspect of Moss. This team consists of 3 members who are all experts in their trade: Master Electrician, Master Plumber, and a Master Carpenter. These team members will be the same all throughout the process so you have the peace of mind of knowing who is in your home.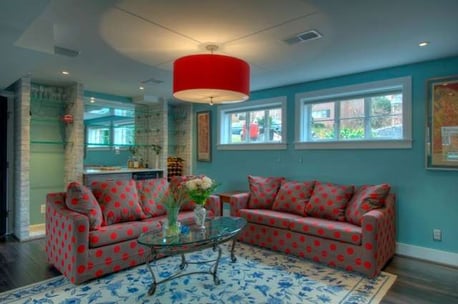 How many different Moss employees will be working on my basement at any time? How will I know when and who to expect at my home?
One of the best aspects of working with Moss on your basement remodel is our turn-key teams. During the construction phase, there will be a group of Moss team members (2-3 individuals; depending on the trades required in your basement) that will be at your home from start to finish, every step of the way. There are only a few specialty trades that will be there other than the Moss team such as flooring crews or countertop companies.
Our employees are the best at what they do and all team members are certified and background-checked. With this in mind, and our great turn-key approach, you can have comfort knowing who is at your home on a given day. The turn-key team approach is a client favorite as our clients begin to build a relationship with the team since they will be in the home throughout the duration of the project.
You also have the benefit of access to Moss Online, our web-based project management tool, that allows you to track every aspect of your basement remodel, including your work schedule to know what technician will be at your home as well as track any selections you have made for your basement remodel including cabinetry, countertops, flooring, etc.
What are Moss' warranties?
Moss offers a three year warranty of any labor performed in your home. Manufacturer warranties vary and apply separately. If there is an issue after your basement remodel is complete, you can contact anyone who worked on your remodel, from the Sales Consultant to your Customer Care Manager to discuss the issues. Moss will always work with our clients to ensure that they are completely satisfied with any work performed in their homes.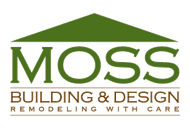 Jenn Zschunke is a part of the Community Relations department. She plans HandyMom 101 workshop programs for Moss and coordinates philanthropic activities in her local community.
For more information on your home remodeling needs, contact the experts at Moss Building & Design at 703.961.7707 to go over your ideas.