(But not in a Kardashian way)

By – Jeannine Miller (jmiller@mossbuildinganddesign.com)
You know that awesome feeling when your idea actually pans out like you had hoped? Yeah, I got that. We hosted our first 'public' HandyMOM 101 workshop and it was fantastic!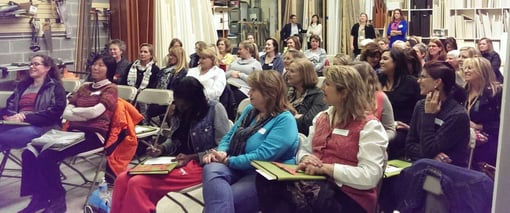 Typically, our workshops are presented to women's groups who are looking for a monthly speaker or activity. However, we often hear from individuals who don't belong to a formal group but would love to learn some new DIY skills. To that end, we decided to hold a workshop and invite people we have met over the years who may or may not have had the chance to be part of a group workshop.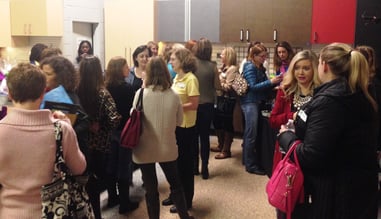 We weren't sure what the response would be, so I was thrilled to have over 100 women interested in coming. Our guests braved a cold and rainy night to spend the evening with us and we're so happy they did. While enjoying some wine and refreshments, the ladies perused the beautiful closet and garage showrooms of our co-hosts and organizational specialists,Tailored Living featuring Premier Garage. Then we headed into the warehouse to get to work. Moss Building & Design Sales Consultant Damon Cruz drew on his expertise (and charming personality) to show the ladies how to patch wall holes.

The experience was quite entertaining as well as educational. Putting their newly-acquired skills to the test, five ladies competed in a "Patch Off" contest. This contest was a first for us, but it certainly won't be the last. It was a lot of fun and the ladies were really good. We put Damon on the spot and forced him to select a winner and he chose Shelly Hess. Shelly is no stranger to home improvement and really enjoyed adding hole patching to her DIY skill set. As the winner, she received a gift basket containing all the items she will need to put her new skills to use in her own home.
And the prizes just kept coming…Amazon gift cards, more gift baskets and a FREE Handyman For A Day were all part of the evening's festivities. It was a blast and we look forward to hosting more public HandyMOM 101 workshops in 2015. Join us!
And now, a word from my sponsor: If you're in the market for some home remodeling, call the experts at Moss Building & Design. We will consult with you and help you explore the many possibilities for updating your home. Call 703-961-7707 to schedule an appointment for a free estimate. In addition to blogging about all things home and family-related, Jeannine Miller manages Moss Building & Design's Community Relations Department, which includes the popular HandyMOM 101 and HandyGirl 101 workshop programs.