By: Liz Jones (DullesMoms@Gmail.com)
Best Handyman Services in Northern VA
As a mom, wife, professional, I feel that my time is stretched thin. I often feel like I have this looming to-do list over my head and I'm constantly tasking my husband with a honey-do list of his own. His list often consists of things around the house that need to be fixed, tweaked, replaced....you name it. They often include a ladder, a power tool, a trip (or three) to Home Depot. However, we decided in the past year to invest not just in our home, but in the quality of our lives by freeing ourselves up from our never ending house list. We haven't ignored the list, we just gave it to someone else.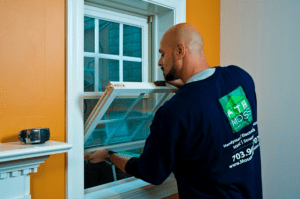 I often joke about Brian being my second husband. Brian, my Moss Building and Design Handyman For a Day, visits me quarterly to tackle a huge variety of things that need attention in our home. On his last visit I had the best of intentions to take before and after pictures to share with you. But, instead, I sat back and enjoyed someone doing the job while I managed work and my family. Brian comes fully-equipped with a truck filled with the supplies he needs to manage your tasks. He completes the jobs independently, quickly, and with know-how. Plus, he is very considerate with gestures like taking his shoes off before stepping on the carpet and fully cleaning up after a job (think: no tools and materials scattered about for days!). Brian doesn't do "quick-fixes" that will need attention in just a few months — he does a solid, quality job.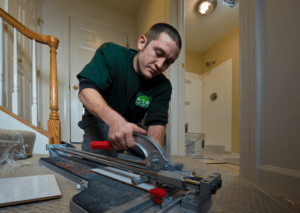 When scheduling Brian, I send my Moss Building and Design contact a list of things I would like done. My husband and I keep an ongoing list on our fridge, that we update when we notice things. Things that we don't have the expertise or tools to do always tops it. Brian shows up promptly, I show him around the house and describe the various jobs, and he then goes for it. He gracefully navigates the dog, the cat, the laundry pile, and even a talkative son who wants to "help." Brian manages each job, no matter how small, with a 100% can-do attitude. Take a peek at just a small list of things that Brian has managed for us:
• Remove nail pops and old anchors from the walls (including patching, sanding, and painting)
• Replace old faucets with new ones, including updating the water lines under sinks
• Fix windows that no longer stay open without a prop
• Fix a door that was is hard to open/close due warping
• Install new shower curtain rods
• Replace some warped and rotten wood around a door frame
• Install new sliding screen doors
• Install a new mailbox and post
• Install a storm door
• Sand and paint around an exposed wall that was revealed when we updated our thermostat
• Install window blinds
• Fix the floor track for a closet that was damaged
• Recaulk a seam around our bathtub and shower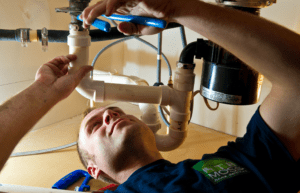 I am sure in your own home you walk past things every day and think "I need to do that," or "That needs to be fixed." Now, instead of feeling overwhelmed by these things, consider hiring a Handyman For a Day and feel secure knowing that these things will actually get done and you won't have to sacrifice multiple weekends to fit them in your busy family schedule. Learn more about Moss' Handyman For a Day here.
Best Northern VA Contractor
Moss Building and Design is the top home remodeling company in Northern Virginia. They have established a reputation for excellence in remodeling additions, kitchens, bathrooms and basements while providing home services for homeowners. With a strong focus on community, MOSS encourages a hands-on approach to home improvement with an emphasis on education. Their 'Girls Night Out' HandyMOM101 events offer DIY workshops covering projects like tiling, power drills, caulking and patching drywall.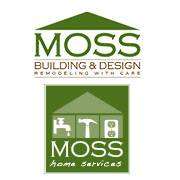 Connect: Facebook | Twitter | Instagram | Houzz | Linkedin | Google + | Pinterest | Youtube