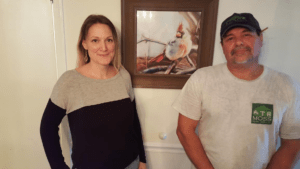 By: Marcia Sheehan (Marcia@CharmedCardinals.com)
A couple weeks ago I had the very pleasurable experience with a Moss handyman. The entire process from start to finish was professional, efficient, and I'm still glowing from it!
Jenn Zschunke (Moss's Community Relations Manager) and I were initially acquainted when I reached out last year to schedule a HandyMOM 101 workshop for my society's members.
Months after our workshop, Moss graciously donated gift certificates to a Mother's Day Mall fundraising event to benefit the funding of a maternity home.
Could they BE any more generous with their time and commitment to our community?! Well yes, yes they could!
They offered up this handyman service to me in exchange of me providing feedback on the process and overall experience.
I received the initial email from Jenn, quickly responded that she had no idea how much value I would find in a handyman for a day, then took a screenshot and sent the message to my sisters. There may have been a joke or two about how MOSS would be receiving 2 weeks' notice from their handyman; if he made it out alive.
I'm going to lay it all out there for you. My husband and I bought our current (and first) home when our oldest was 8 months old. Days before our one year anniversary of becoming homeowners I was laid off from my job...while 6 months pregnant with our youngest. I'm still bitter.
Anywho, that was 6 years ago.
Fortunately for us, my husband is a tennis pro who has the ability to work as much or as little as he wants. Therefore he was able to supplement my salary loss by doubling his court time. Unfortunately, that meant he was out of the house twice as much. And when he was home, the last thing he wanted to do was household maintenance.
In the first few years my parents would stay in our home when they visited. My dad would do the repairs, but that gravy train ended when they started to stay in hotels.
Our handyman list was long! When I received the contract and blank wish list from Jenn in the mail I was thrilled to see how many lines there were for items. I didn't even fill it up completely!
I mailed the contract back, got a voicemail from Jason Marshall (Service Manager) to go over the list, spoke with him and confirmed Stan to visit just 2 days later! I received an email from Jason a little later that day with a confirmation and login information for Moss's site to review the project.
Day of:
From our kitchen I saw the Moss truck pull into our spot. Earlier than scheduled! Yes!
As Stan walked up I could see him eyeing the place. We exchanged hellos and names and he said "I wish I brought my tall ladder so I could fix those shutters".
Me, "Oh, I didn't know you all did outdoor work."
Stan, "We do everything except build a home from scratch."
Me, "Nice!"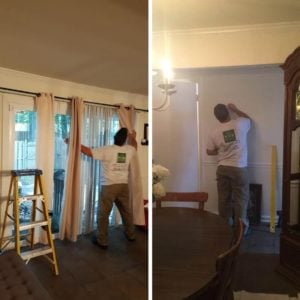 With the exception of a chandelier dimmer, Stan had everything that was needed. Part of the service is if you are scared of (oh I mean not acclimated with) the hardware store your handyman can go pick up the items for you. It does take out of your allotted time but I opted for that when Jason and I discussed my list over the phone.
After assessing all the projects, Stan conveniently went to Home Depot for the dimmer while I dropped my boys off at school.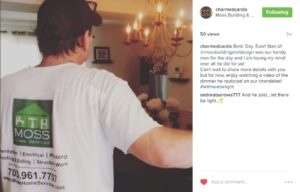 The rest of the day was a blur. Stan completed everything on my list and then some things to boot!
He fixed our storm door on one of the trips to the truck because it stuck to the frame. That wasn't on the list! He just did it!
He also drilled the bottom shutters in because he could reach them.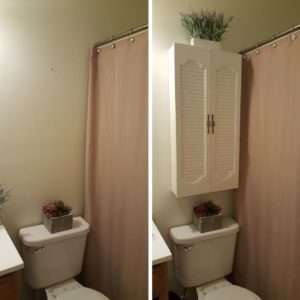 For the items that I didn't add to the list because they weren't a priority (or way too time intensive) I asked him his opinion. He told me what was wrong and what to expect in regards to a repair. He also gave me knowledgeable information on paints, paint brushes, and painting in general so when I'm ready to do that I'll get it right the first time.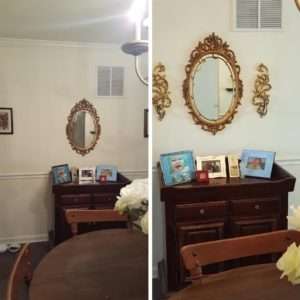 Stan let me know we don't have to wait until we have a days' worth of work- we can hire hourly. So good to know! And they do everything! Electric, plumbing, roofing, siding, remodeling, etc.
I had known prior to Stan's visit that MOSS is a stellar company due to their sense of pride from employees, their generous community outreach, and their mission to empower others through hands on workshops.
Now that I have experienced their service, I would 100% recommend MOSS. I definitely plan to use them in the future.