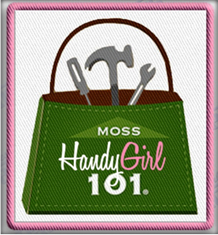 By – Jeannine Miller (jmiller@mossbuildinganddesign.com)
Gone are the days of Dad and the boys being responsible for all the fix-it jobs around the house. Today's Moms and girls are interested in and fully capable of taking care of business-- they just need someone to show them how. Enter Moss Building & Design. In 2011, Moss introduced the HandyMOM 101 workshop series to northern Virginia women's groups. Since then, ladies have been learning lots of necessary homeowner skills from patching holes in the walls to adding dimmers to light switches.
Always looking for new ways to work with our community, Moss created the HandyGirl 101 program. These workshops are a spinoff of the popular HandyMOM 101 series and have been created especially for girls in Northern Virginia interested in learning DIY skills.
The program was launched at the Fall Capital Home Show and Fox5DC's Holly Morris even came out to cover it. These Oakton Brownies were pretty pleased with the trivets they made using all the skills which would be used in a tiling project in their own home.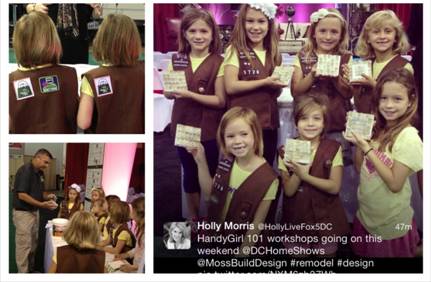 Since the launch of the program, Moss has been teaching "handy girls" all around northern Virginia. Each young lady is accompanied by her mom and they have a chance to learn together. Under the watchful eye of a Moss professional, the moms learn to cut tile and the girls take it from there.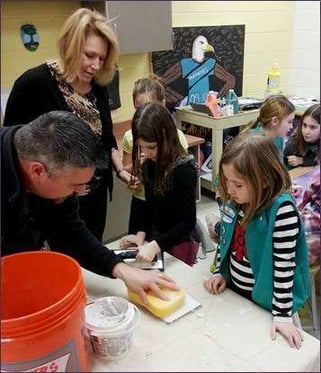 Each girl earns a patch suitable for Girl Scout uniforms or trading. And as a thank you for accompanying her daughter, each mom receives a $50 coupon from Moss Home Services and one lucky mom wins a $250 gift certificate!
HandyGirl 101 is available in the Northern Virginia area for mother/daughter parties or Girl Scout troops looking to earn badges.
If you're looking for a makeover for your home, call the experts at Moss Building & Design. We will consult with you and help you explore the many possibilities for updating your home. Call 703-961-7707 to schedule an appointment for a free estimate.
In addition to blogging about all things home and family-related, Jeannine Miller manages Moss Building & Design's HandyMOM 101 workshop program and coordinates Moss' philanthropic efforts in the community.