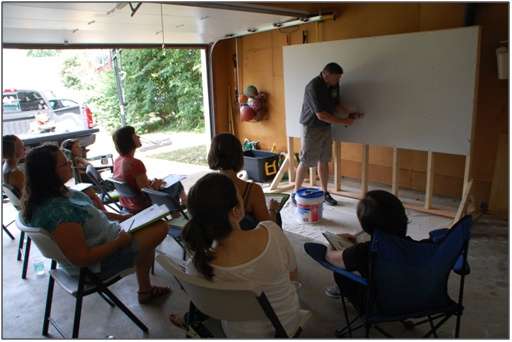 Or, What Moss Learned from the Fox Mill Moms "Patch It" Workshop

By – Jenn Zschunke (jzschunke@mossbuildinganddesign.com)
Ever wonder what brings moms together in a community? Is it the shared woes of choosing a preschool? Is it friendly neighborhoods? The local moms' groups/gym/grocery store/park? Well, I have the answer for you and it's none of the above.
It's having a spot on the wall where an old thermostat was removed and never properly fixed. And having a new thermostat right next to that lovely eyesore. And having the first thermostat spot patched and painted…badly.
This answer was attained from our most recent HandyMOM 101 workshop, where we presented "Patch It" to a group of fun and very attentive moms from the Fox Mill Estates neighborhood in Herndon. At least HALF, yes, HALF, the moms in attendance had tales of thermostats gone bad.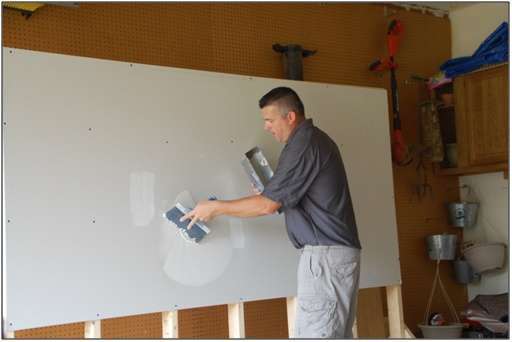 Luckily, our fearless workshop presenter, Nathan Shaffer, of Moss Home Services, calmed fears and answered all manner of questions on how to correct this horrible affliction. He also led the moms through the other particulars of the "Patch It" workshop, including how to patch small holes (removing nails/screws) and how to repair the "doorknob in a wall" scenario (this seemed to be a common theme among the moms – as did the "towel rack being used as a pull up bar hole creation" issue).
Nathan showed off the proper materials and tools that one would need for these small repairs. He then went BIG and showed attendees how to repair a larger hole that required more work with wood behind the drywall (for anchoring future nails/screws more safely).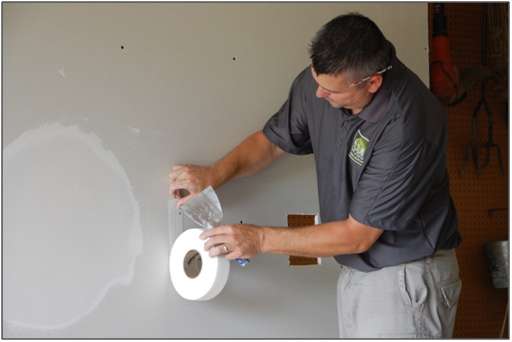 In keeping with Moss' drive to make our workshops hands-on, we managed to get Melissa Cingle up to the drywall to release some thermostat-gone-wrong anger. Very handily, she cut a hole, screwed in wood, replaced the piece of drywall and patched it all up. Feeling very proud of herself, Melissa was ready to go home and kick some thermostat butt.
Do you have a thermostat or other ugly eyesore in your home that needs patching and repair? Never fear. Call the professionals at Moss Home Services. We'll show those walls who's boss.
A huge thanks to Hostess Jenn Gibbs (shown here receiving her free Handyman For a Day certificate) for opening her garage for the "Patch It" workshop.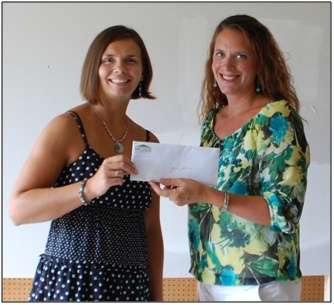 Jenn Zschunke is a part of the Community Relations department. She plans HandyMom 101 workshop programs for Moss and coordinates philanthropic activities in her local community.